Transforming the Guest Experience with a Data-driven Site Designed for Performance
Outrigger
Even the most venerable brands need to be proactive about evolving to meet the needs of today's consumers. Outrigger Hospitality Group, a premier beach resort company based in Hawaii, has been serving travelers for 75 years. The Outrigger team partnered with Rightpoint to reinvent the guest experience on its website and reengineer the underlying technology to maximize operational efficiency, improve conversion rates and enhance scalability. The result of this collaboration is a completely reimagined site that reflects Outrigger's identity as a barefoot luxury, world-class hospitality brand; delivers a more cohesive and engaging guest experience; and provides Outrigger's small-but-dynamic team with the ability to efficiently optimize and scale its digital efforts.
Outrigger is a brand with a meaningful legacy and a history of innovation. Founded in 1947 by Roy and Estelle Kelley, Outrigger's success later earned Roy the title "Father of Hawaii's Modern Tourism." From modest beginnings as a single, 50-room hotel, the Outrigger brand has grown into a global, multi-destination portfolio operating 33 properties throughout the Hawaiian Islands, Asia-Pacific and Indian Ocean. 
Outrigger reached out to Rightpoint at a critical juncture in its growth. In the wake of surviving the challenges of the initial waves of the Covid pandemic, the brand had seen an uptick in online engagement and bookings. While this trend was exciting for continued growth, Outrigger leadership knew that its existing website and CMS did not put the organization in a position to take full advantage of the opportunity. 
The existing website did not deliver a guest experience that aligned with Outrigger's brand or commitment to customer satisfaction. And on the back end, the functionality did not support robust personalization or the ability to run marketing experiments. With an eye to the future, Outrigger's team committed to investing resources in a long-term digital solution that would help them support, enhance, and scale their business for years to come. 
Outrigger came to Rightpoint looking for a partner who could help it reimagine and reengineer its website from the ground up — starting with selecting a new CMS through to collaborating on strategy, design, and implementation. The team had four primary challenges and objectives:
Improve the Guest Experience
The existing site spread Outrigger's content over a number of individual microsites in a very decentralized way that was difficult to navigate. In addition, the available content did not always provide the depth of information (including details about specific properties, rooms, amenities, dining options and signature experiences) guests needed to make travel choices.
Overall, the site delivered a disjointed, often confusing and sometimes even frustrating experience that forced guests to visit multiple sites and landing pages to piece together the information they needed. It did not provide the sense of place that is so intrinsic to the Outrigger brand. Outrigger's core values are focused on the trinity of HOST + GUEST + PLACE, but the existing website wasn't connecting the dots between those three elements that are so crucial to bringing a travel experience to life.
Optimize the Site Structure and Streamline Site Maintenance
The existing CMS was overdue for an update. For instance, it did not offer a centralized way to share information across multiple pages. It also lacked the automation to populate page elements such as 'related articles' or 'nearby properties.' The lack of key content management features and overall flexibility made it very difficult for Outrigger's team to keep up with content updates and other critical tasks. Each little update required a lot of manual work that had to be repeated many times across different microsites and landing pages. In addition to the labor-intensive nature of the work, there was also an enormous possibility of error. 
Create a Foundation for Future Scalability and Experience Evolution
As Outrigger looked to create much more personalized, data-driven guest experiences, the team knew they needed much more robust analytics. The existing analytics ecosystem created two main challenges. 
First, a lack of visibility into website activity via Adobe Analytics made it impossible to accurately analyze what was working and what wasn't. While broad metrics – such as engagement or viewership – provide directional guidance, there was a lack of actionable data to help Outrigger identify exactly which content, functionality, or design choices moved the needle on conversion.  Their strategy had outgrown the capabilities of their existing analytics. They needed to be able to drill down to a much deeper level of detail that could inform precise optimization. 
Second, the existing CMS did not have the capability to run experiments with copy, images, promotional codes, or any other variables that can make a big difference in the guest experience, engagement, and conversion. Finally, the existing CMS did not have the ability to take experiment findings and activate them through personalization or enhanced guest profiling.
Outrigger needed a partner who would help them reevaluate its current analytics ecosystem – from tagging and tracking to experimentation and personalization – and explore alternative options.
Update Branding and Design
Alongside the structural and technical changes to their digital presence, Outrigger was also working with its branding agency on a strategic brand refresh. This aesthetic update focused on the Outrigger values of HOST + GUEST + PLACE as well as on its positioning as a premier beach resort brand.  
Outrigger wanted Rightpoint to weave the updated branding elements into the new website from the ground up in order to reinforce the value proposition and align with Outrigger's overall marketing strategy.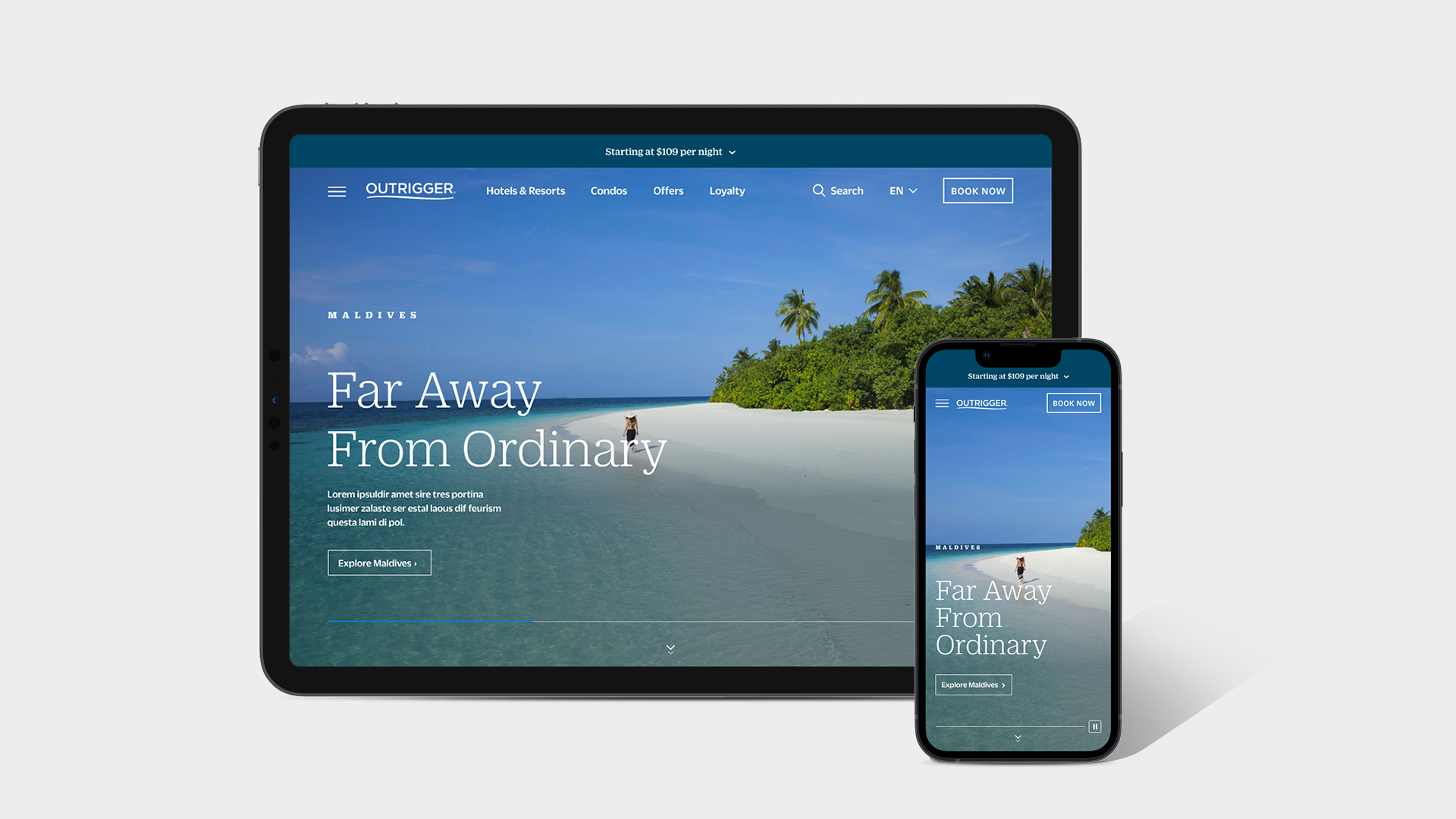 The engagement followed the Rightpoint Way: Frame, Shape, and Create. Rightpoint assembled a truly multi-disciplinary team that included experts in business analytics, content strategy, experience design, research, SEO, front-and back-end development, quality assurance and more. 
The project goal was to develop and implement a data-informed site design that was purpose-built to generate conversions while delivering a world-class guest experience on the front end and highly efficient and scalable functionality on the back end.
At the beginning of the process, Rightpoint guided Outrigger through evaluating three different CMS options. Ultimately, the team selected Optimizely as the perfect solution based on its flexibility and robust experimentation and personalization features. 
Frame
In the Frame phase of the project, Outrigger and Rightpoint engaged in deep cross-collaboration to do a deep dive into research and analytics. The goal was to get a complete understanding of the market, the business, and the current state of the site. This critical part of the process creates a strong foundation on which to set the remainder of the work. 
Key activities and deliverables for the Frame phase included:
Stakeholder interviews and workshops

Reviewing existing Outrigger research + interviewing prospective Outrigger guests

Analytics current state and gap analysis

Content inventory and audit

SEO benchmark and landscape analysis + technical requirements

Insights and opportunities definition deck
Working together, the team uncovered many opportunities to tell a richer story about Outrigger across the guest journey. They also identified ways to improve guest confidence during the research part of the buyer journey, which would ultimately improve conversion. And they explored ways they might extend the role of Outrigger's website in the planning and booking process. 
In addition to these big-picture insights and strategies, the team also honed in on some specific tactics such as rewriting and restructuring on-page content to improve SEO, and evolving from manually entered SEO schemas to integrated SEO schemas that are automatically generated based on the page content.
In short, the work done during the Frame phase set the stage for everything else to follow. It clearly defined the current state, including strengths, risks, constraints and opportunities. 
Shape
In the Shape phase, the team pivoted from their in-depth evaluation of the current state and potential opportunities to focusing more concretely on the desired future state. While the entire project was a highly collaborative effort between the Outrigger and Rightpoint teams, this phase was especially so. 
The process included an onsite working session during which the combined team worked together to identify and solve the most challenging parts of the experience. That co-working session gave the Rightpoint team a lot of great information to fuel the iterative strategy and design process. 
Throughout the Shape stage, collaboration continued across all functional areas to ensure that all the elements of the newly imagined and reengineered site would work in concert to deliver on the overall project objectives. This required not only that Rightpoint and Outrigger were in close communication, but that all the different specialists on the Rightpoint team were working in lockstep. From content, SEO, and analytics to design and technical integrations, all the Rightpoint team members aligned to ensure that each choice supported the team's mission to produce a technically feasible, data-informed site that would greatly improve the guest experience while simultaneously reliving a simple and efficient content authoring experience. 
Key activities and deliverables for the Frame phase included:
Audience Mindsets and Customer Journeys

Experience Concepts

Analytics Measurement Framework, and analytics technology recommendations

Information Architecture, including the Sitemap and Taxonomy Framework

Prioritized Content Plan, SEO Implementation Plan, and Design Implementation Plan
The team identified many opportunities across all the various disciplines involved in the project. Some of these opportunities were very hands-on in terms of the structure of the site, the CMS features, or optimizing the content for SEO performance. Others were more strategic, such as identifying GA4 as the future of analytics technology and proactively switching Outrigger to the new platform, giving them an advantage over competitors who were still working with high-priced alternatives or—worse—scrambling to migrate as Google moved to sunset UA in 2023.
Create
Informed by everything they had learned in the Frame stage and everything they had developed in the Shape stage, the team went to work to create a new Outrigger site that would unify content and experience, improve ease of use for both guests and the Outrigger team, deliver reliable performance, allow for rich analytics insight, and provide a strong foundation for future scalability. 
The new site featured a front end that incorporated the new designs in a much-improved guest experience that guided travelers to exactly the information they needed. It had new, more streamlined architecture, and it had rewritten content that had been migrated over, optimized for SEO, and tagged in GA4. The entire website experience had been overhauled in terms of design, structure, content, and functionality. And every change and enhancement had been carefully chosen to help create a better guest experience, more efficient back-end management, or both.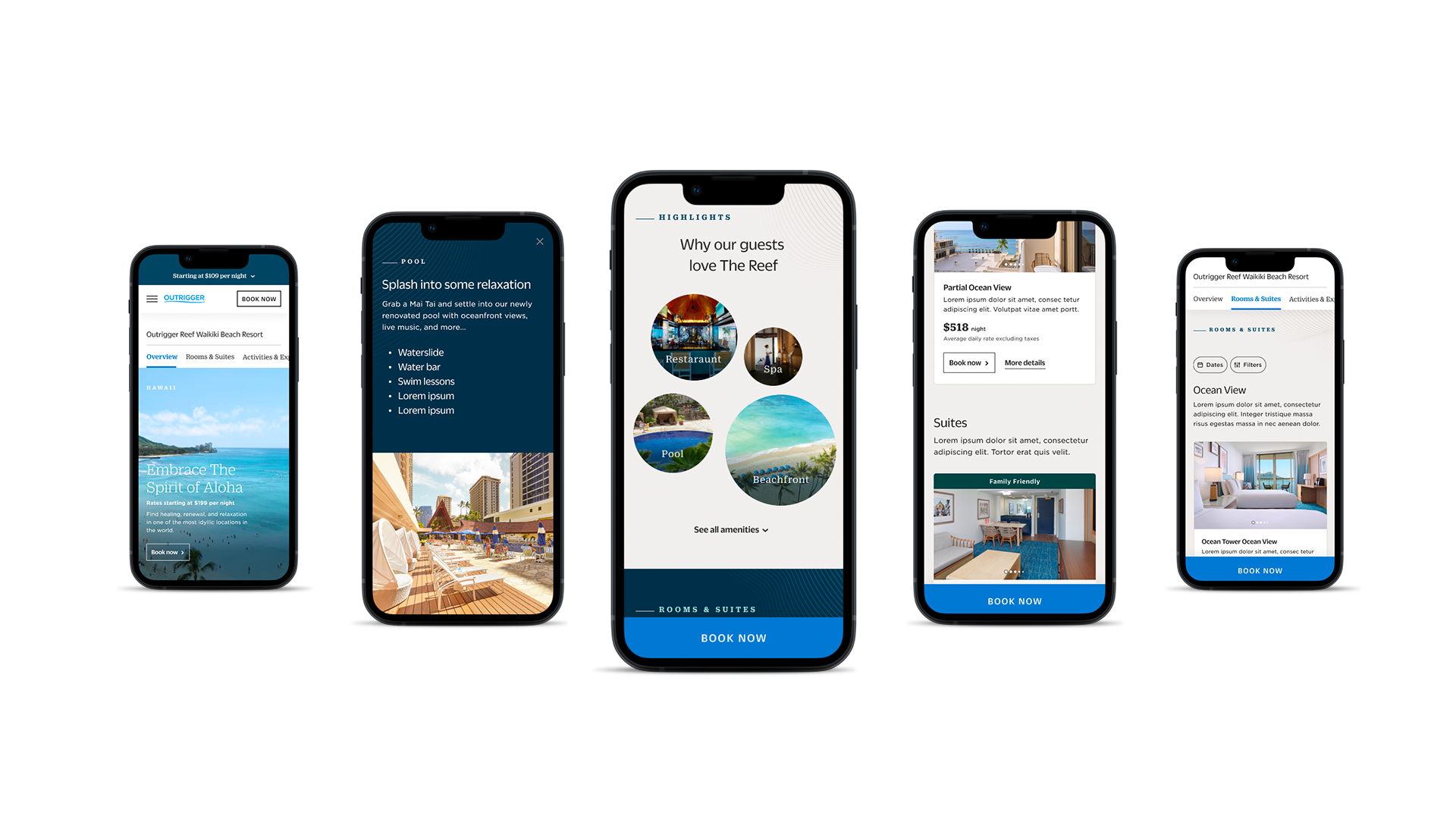 "When we started this digital transformation, our goal was to breathe new life into the Outrigger Resorts & Hotels story in an authentic, relevant, and engaging manner online. Rightpoint were true collaborators through the near year-long initiative, supporting us end-to-end. We're excited to kick-off phase 2 of our journey with them this year."
Jenna Villalobos
Senior Vice President, Commercial Strategy, Outrigger
The initial response to the launch of the new Outrigger website was very positive. Launch day booking revenue was one of the highest day totals in recent months, nearly matching its Cyber Monday sales. Just as important as initial upticks in revenue and engagement, the new site provides Outrigger with a highly scalable foundation from which to continue optimizing the guest experience with different kinds of personalization based on everything from geo-location to traveler types, travel history, and more. 
And the Outrigger team is so happy with the work and the outcomes that they have already engaged Rightpoint as a strategic partner for ongoing projects including the next iteration of the Outrigger site and a new website for the brand's vacation rental properties. 
The Outrigger brand now has a website that lives up to its position as an industry leader. And that website gives it the tools they need to continue innovating its way to continued excellence. Within two months of launch, Outrigger is already seeing incredible results. In January 2023, they set a record for January YOY revenue generated by their website!
Our Contributions
Capabilities
Insights

Strategy

Content

Design

Analytics

SEO

Engineering
Our Contributions
Technology
Optimizely Content Cloud

Optimizely Experimentation

Optimizely Data Platform

Google Analytics 4

Google Tag Manager

Looker Data Studio

SEM Rush

Integrations with OneTrust, Mapbox, Sabre, Smartling, Cendyn and GHA