Starting a Digital Transformation with a Customer-Centric Content Strategy and Website
Knauf Insulation
Knauf Insulation is a leading, family-owned global manufacturer of fiberglass insulation — delivering thermal and acoustical solutions for residential, commercial, industrial and OEM applications to North America for the past 42 years. Knauf's mission is to challenge conventional thinking and create innovative insulation solutions that shape the way we live and build in the future. Rightpoint helped them improve the customer experience in order to boost traffic and engagement, and—ultimately—the volume of high-quality leads generated on their website.
Starting with a Strategy
Differentiating with Experience in a Commoditized Market
In a commodity market, experience is a crucial differentiator. Understanding this, leadership at Knauf Insulation North America (KINA) made a commitment to becoming a digital leader in the building materials space. With a desire to better serve their existing customers and future generations of more digitally savvy people, the Knauf team initiated a digital transformation around a customer-centric philosophy.  
This philosophy aligned with Rightpoint's, making for a perfect partnership between the two organizations. Together, they set out to educate, inspire, and empower customers by providing more accessible and relevant content.  
The overall strategy for the project was to invest in the company's owned properties in a way that demonstrated digital leadership and delivered an unsurpassed customer experience. The team's starting point was an outdated website that was difficult to navigate and unable to provide visitors (architects, contractors, and distributors) with quick and easy access to the information they sought. The roadblocks that kept prospects from accessing the information they needed to move down the funnel translated into lost business.  While the situation was not ideal, it did present two important opportunities:  
With an improved customer experience, Knauf Insulation North America would stand out from the competition, who rely mostly on traditional offline marketing and sales tactics and have not invested in their digital presence. 

By creating a more direct path between prospects and relevant, detailed content, Knauf Insulation North America would also create a stronger and more valuable connection with users.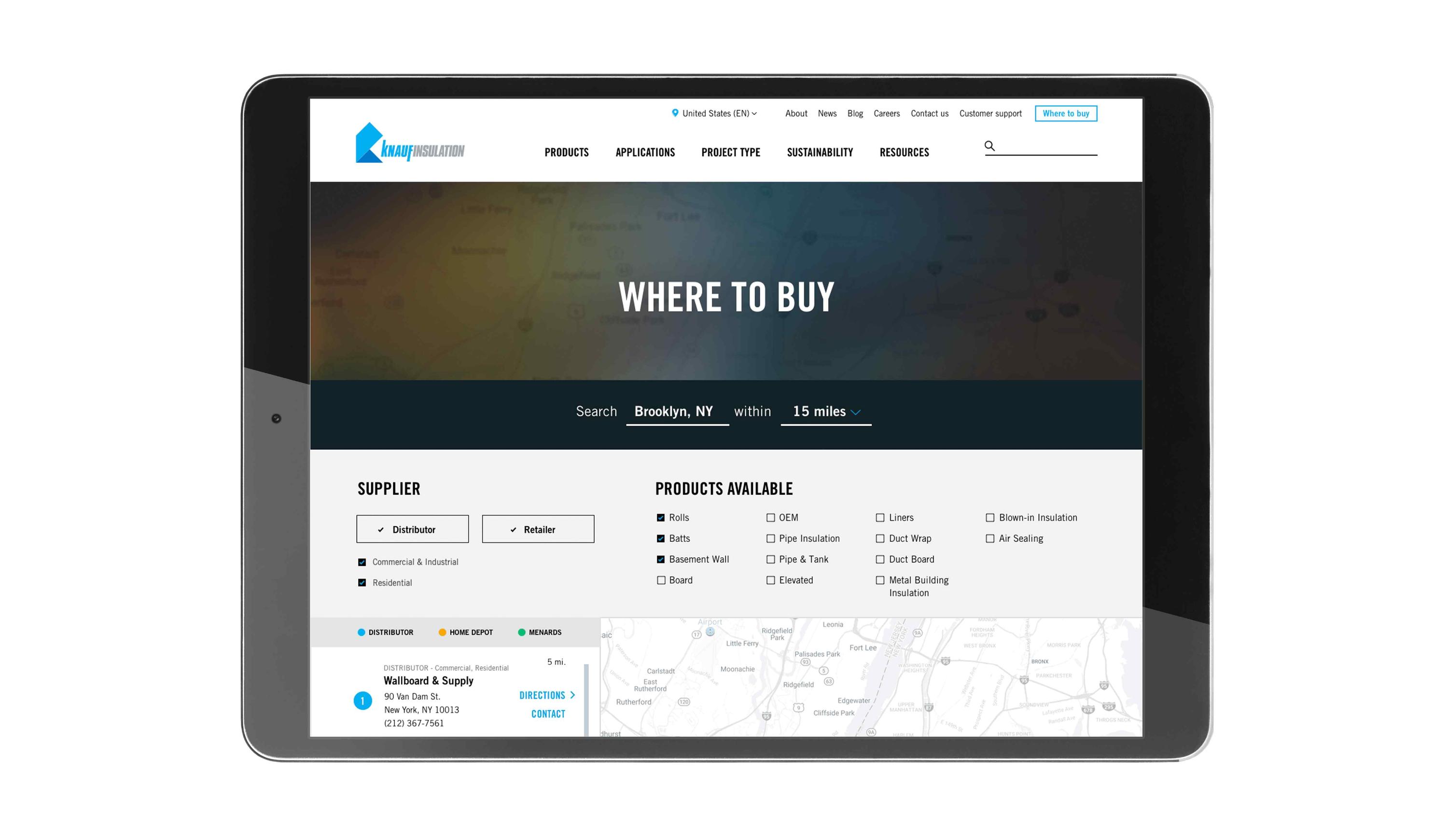 Work
Refocusing the Experience Around Customer Needs
The project consisted of three major components: a robust discovery phase, a major content initiative with extremely tight timelines, and the design and build of the site where the overall customer experience would live.  
The discovery phase allowed the team to dig deep into understanding the business and its different customers. The process involved a lot of listening, observation, and learning. It included stakeholder interviews, many SME meetings, a thorough review of existing data and research, a plant tour, and time spent with Knauf's Training Academy. The Rightpoint team was able to tap into the substantial knowledge and experience of Knauf experts who had been with the company for 20 to 40 years, and then use those insights to inform a comprehensive content strategy.  
Content was a major component of the project. The team needed to identify specific content needs by customer type, and then create that content that not only provided the right information in an accessible way, but also embodied the brand's evolving voice and tone. Finally, the content needed to transform what could have been very dry content into material that was interesting enough to fully engage site visitors. The Rightpoint team included both a content strategist and a copywriter, both of whom worked closely with Knauf SMEs throughout the process.  
Ultimately, the team delivered more than 100 new content pages optimized for SEO. Each page in the new site was tailored to deliver specific value to a specific customer audience. Like the new content—which used elements like a more active brand voice, snappy headlines, and more lively and succinct language to bring the information to life—the site itself was designed to deliver an ecommerce-like experience that felt more B2C than B2B.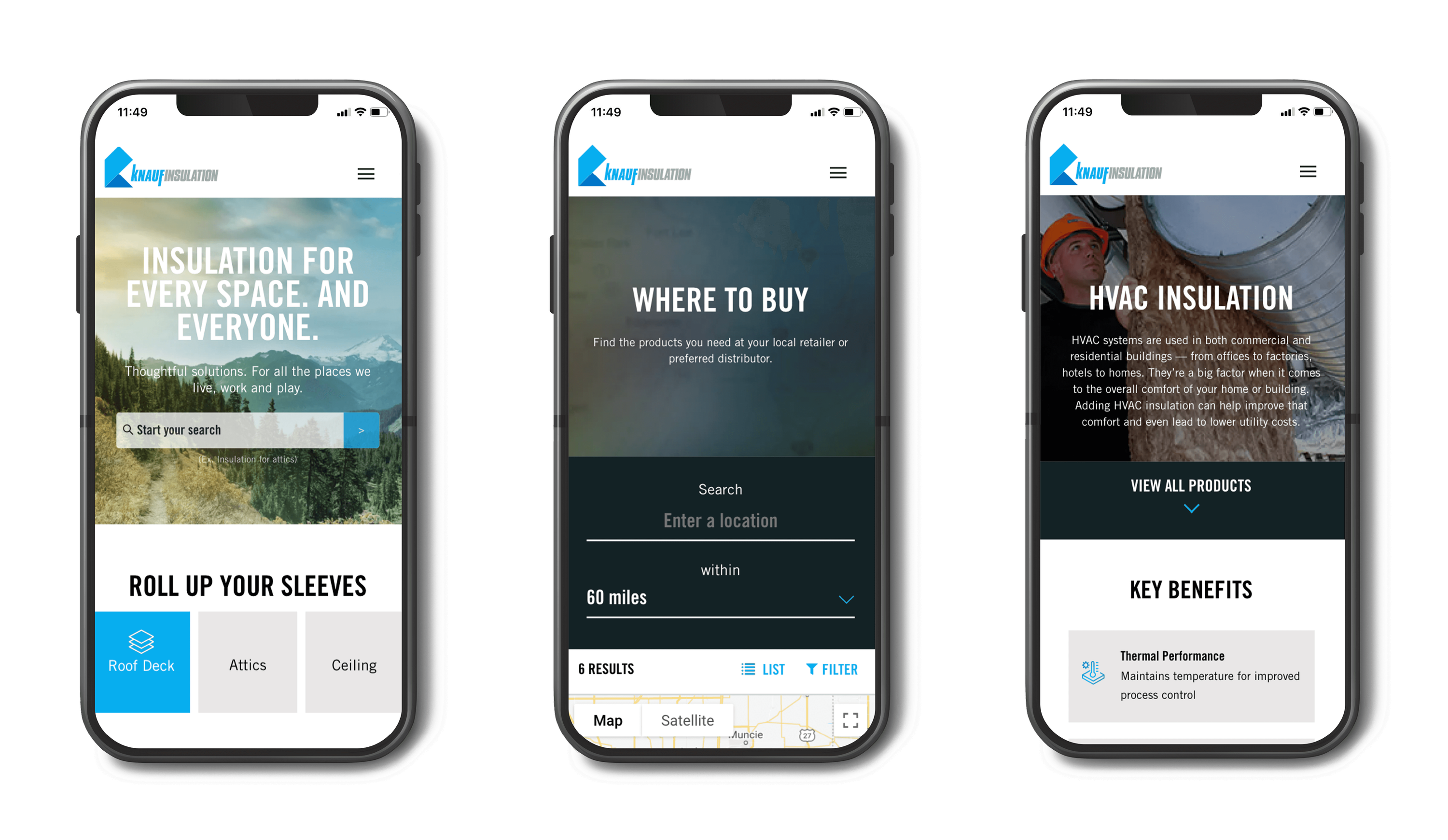 "We've been in this business for four decades and in all that time, we've never stopped challenging ourselves. Our new website reflects our commitment to putting our customers at the center of our digital strategy so that we can educate, empower, and inspire all the doers, thinkers, and creators who use our products to impact all kinds of spaces all over the world. This is only the beginning, and we're excited for what comes next."
Lisa Collins
Director, Commercial Excellence and Digital Marketing, Knauf Insulation
As a key first step in their larger digital strategy, Knauf's relaunch of their website delivered a more customer-centric experience that provides better content accessibility; conveys brand voice and tone more consistently; and drives meaningful outcomes in terms of user engagement and satisfaction, lead generation, and conversion. By focusing on the customer experience and how to provide key support and guidance, Knauf was able to plant seeds of change and innovation for both their customers and their company and drive lead generation and conversion. 
100%
increase in site events
1000
"where to buy" searches a month
Our Contributions
Capabilities
Vision and Strategy

Scope Definition and Measurement

Initiative Prioritization

Strategic Alignment

Roadmap Validation and Alignment

Customer Experience
Our Contributions
Technology
Kentico Xperience Platform

Microsoft SQL Server

Microsoft Azure

Cloudinary

Azure Cognitive Search