Modernizing Digital Commerce Strategy to Create Stronger Customer Relationships
Garden of Life
For over 20 years, Garden of Life has been a trusted brand for full-family wellness, creating a wide range of supplements, probiotics, and sports nutrition products for all stages of life. When this established brand needed help expanding their presence into the digital world, they looked to Rightpoint to help develop the right solution.
While distribution channels have traditionally been centered on specialty stores and grocery, Garden of Life lacked a direct-to-consumer digital commerce strategy. The opportunity was to modernize their existing digital commerce investment, create a stronger first-party relationship with the customer, and provide greater product knowledge and resources to existing customer base.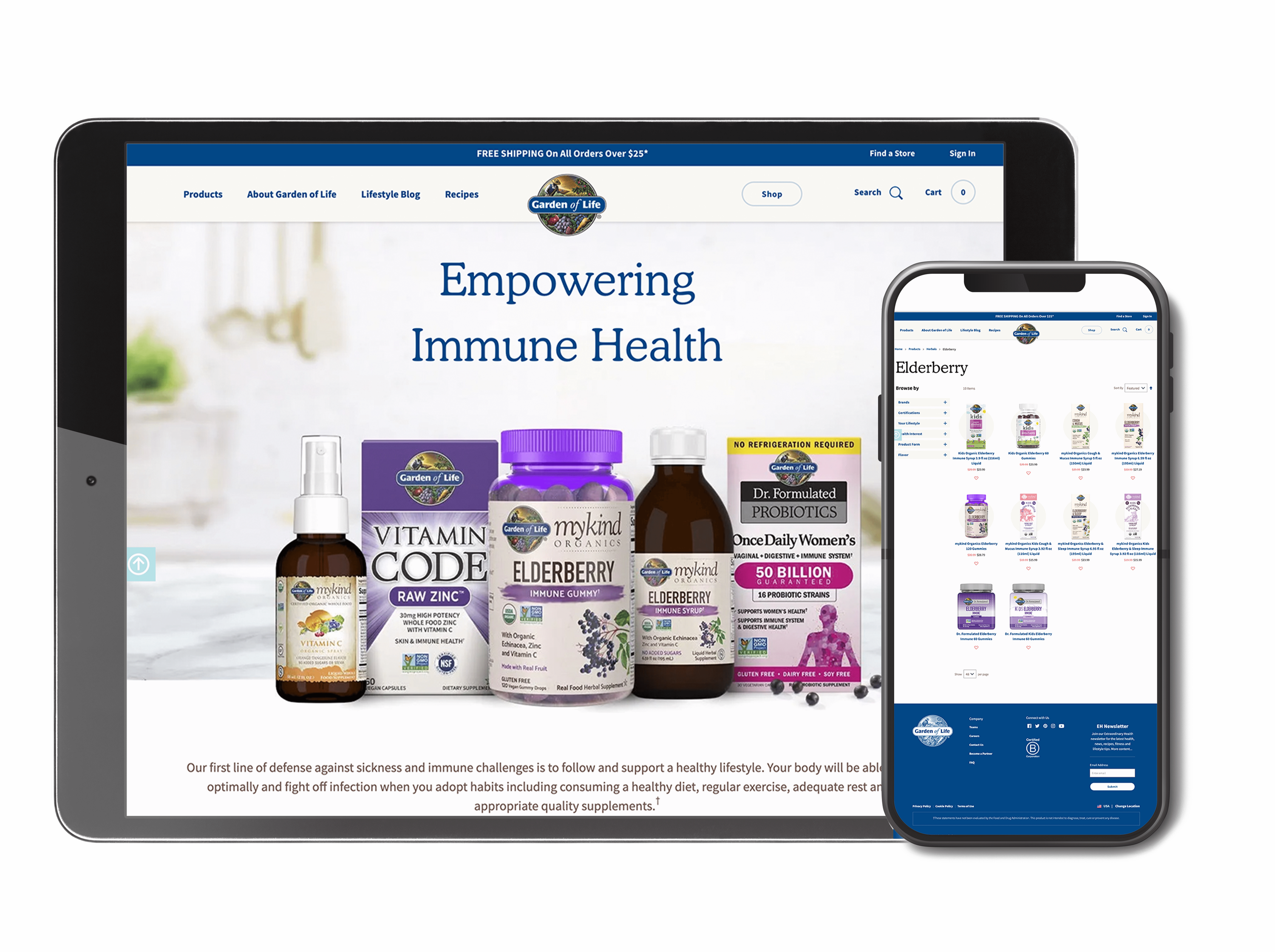 Garden of Life's new digital investment needed to do much more than provide a sales portal for customers, so both Content and Commerce are at the center of the new solution. Rightpoint led a multi-team strategic commerce implementation to implement a DTC brand refresh on Magento. A 6 month-long discovery and customer journey mapping exercise took survey of the modern cloud-capable commerce offerings and it was determined that Magento Cloud provided the quickest time-to-value, greatest flexibility, and met stringent IT security requirements. 
The new DTC consumer launch of gardenoflife.com was a multi-phase project in collaboration with CX, product, digital marketing, brand marketing, and legal teams at Garden of Life, taking place over the course of a year. We began by understanding customer needs and existing journeys and discussed challenges with the CX and support teams. Brand marketing, in collaboration with Carmichael Lynch, provided the roadmap for a brand refresh for the new digital experience.  
The first of three phases focused on improving the site conversion rate, time-on-site, and decreasing bounce rate. It also focused on meeting the expectations of current customers who rely on the content and nutritional information found in the legacy ecommerce site. Future phases will see increased functionality and modes of purchase including subscriptions, personalization, customer segmentation, and a greater investment in content. 
"The first 20 years of Garden of Life's business was about building one-to-one relationships, in-person, in-store. The next 20 years will be about building that relationship online, in every channel."
Phillip Jackson
Former Chief Commerce Officer, Rightpoint
Our Contributions
Capabilities
eCommerce and Websites

User Experience (UX) and Design
Our Contributions
Technology