Streamlining Digital Presence Simplifies Shopping Journey for Customers
Kravet Inc.
Kravet Inc. encapsulates five major brands: Kravet, Leejofa, Brunschwig Et Fils, CuratedKravet, and Donghia. Each brand offers collections of unique, high-quality products ranging from textiles and wall covering to handpicked decorative pieces from around the globe as well as bench made furniture and artisanal floor coverings. The company serves the interior design trade at the highest level through a commitment to quality, attention to detail, and superb craftsmanship.
Kravet Inc. was looking to replatform their main marketing sites: kravet.com, leejofa.com, brunschwig.com, and their home-grown ecommerce portal into a single, multi-store instance. Their ecommerce and marketing channels were separate, and the goal was to unify these into one single experience. This enabled them to streamline their digital presence and simplify the shopping journey for their customers. By partnering with Rightpoint, they hoped to create a completely new shopping experience, modernize their approach to ecommerce, offer a mobile ready experience, and establish an infrastructure that would allow them to unify their digital marketing efforts with transactional experience, all while creating brand excitement.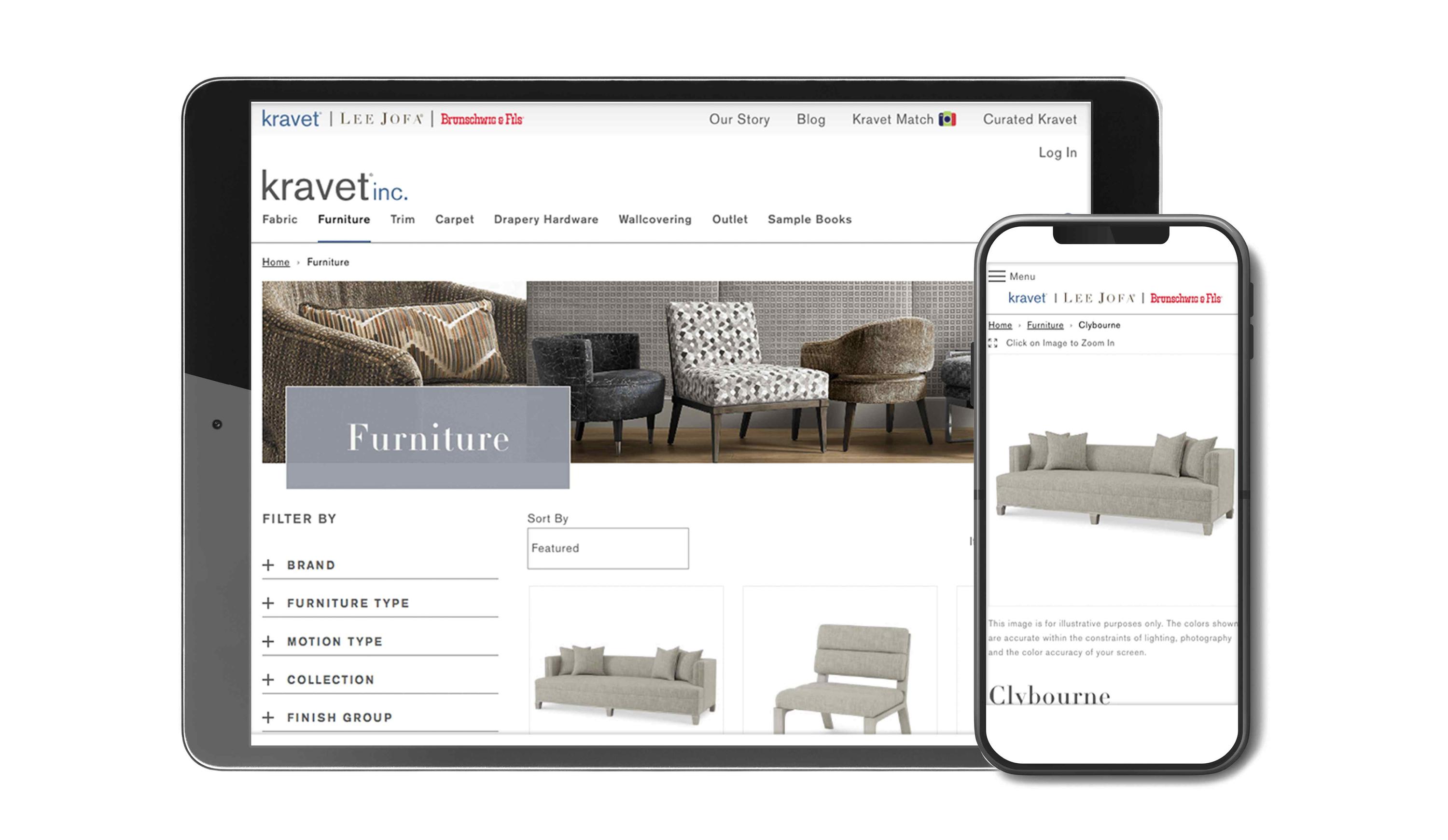 Rightpoint replatformed three individual web experiences into one unified storefront with a custom responsive theme and highly improved responsive user experience. This instance was integrated with Kravet's on-premise Oracle ERP system to create visibility into customer-specific pricing and real time inventory position -- resulting in self-serviceability for customers with more seamless operations. New features such as image-based search gave users a custom and more personalized experience. 
"The future of B2B in the design industry is to allow trade buyers the ability to self-service. Generational businesses like Kravet can use technology to transform into modern, tech-centric businesses. Kravet's investment in digital commerce and the Magento suite of Commerce solutions helps them to reach a new generation of interior designers by giving them the power of Commerce."
Phillip Jackson
Former Chief Commerce Officer, Rightpoint
100%
increase in site events
1000
"where to buy" searches a month
Our Contributions
Capabilities
Vision and Strategy

Scope Definition and Measurement

Initiative Prioritization

Strategic Alignment

Roadmap Validation and Alignment

Customer Experience
Our Contributions
Technology
Kentico Xperience Platform

Microsoft SQL Server

Microsoft Azure

Cloudinary

Azure Cognitive Search