Bringing the Joy of In-Store Shopping to Life via a Virtual Store
World Market
During an unconventional holiday season, World Market—a leading national retailer with more than 200 stores across the country—partnered with Rightpoint to bring the delight of in-store shopping to customers at home.
In order to thrive, retailers must think beyond their E-Commerce platforms and identify new ways to create delightful moments. With the COVID-19 pandemic changing customer shopping behaviors, World Market developed the idea of a virtual holiday store. The concept was based on customer listening and insights, which uncovered that shopping just to browse and enjoy rather than going out for a needed item has been sorely missed – the virtual holiday store would help to fulfill customers' desire to shop safely from the comfort of their own homes.
Following a successful E-Commerce collaboration for the 2019 holiday season, World Market leaned on Rightpoint to expand their work together. 
"Shopping at World Market is unlike any other store – there is a sense of surprise and delight around every corner. We wanted to harness the power of our joyful holiday retail experience and bring these moments to life for our customers, from the comfort of their couches," said Adrian Stevens, SVP - Chief Marketing Officer, Head of E-Commerce and Digital Strategy at World Market. "Rightpoint has been a valued partner to help us bring this to life – from strategy and vision to execution."
Working with Rightpoint, World Market created its first virtual holiday store to engage millions of their loyal customers online with an experience unlike anything they've seen before and to entice new customers, who are seeking different types of shopping experiences. 
Built using Matterport's 3D capture platform and accessed via the World Market homepage, the virtual experience allows customers to browse a World Market location, shop, add items to the cart, and purchase items seamlessly.
The virtual holiday store is meant to spark joy among World Market's traditional shopper, bringing a real in-store layout to life and allowing customers to browse and buy over 550 holiday products. The experience also has a unique storytelling layer of content that inspires consumers to explore the virtual store, to add products to their cart and to learn more about seasonal trends like creating the perfect gift or decorating a holiday-inspired mantel.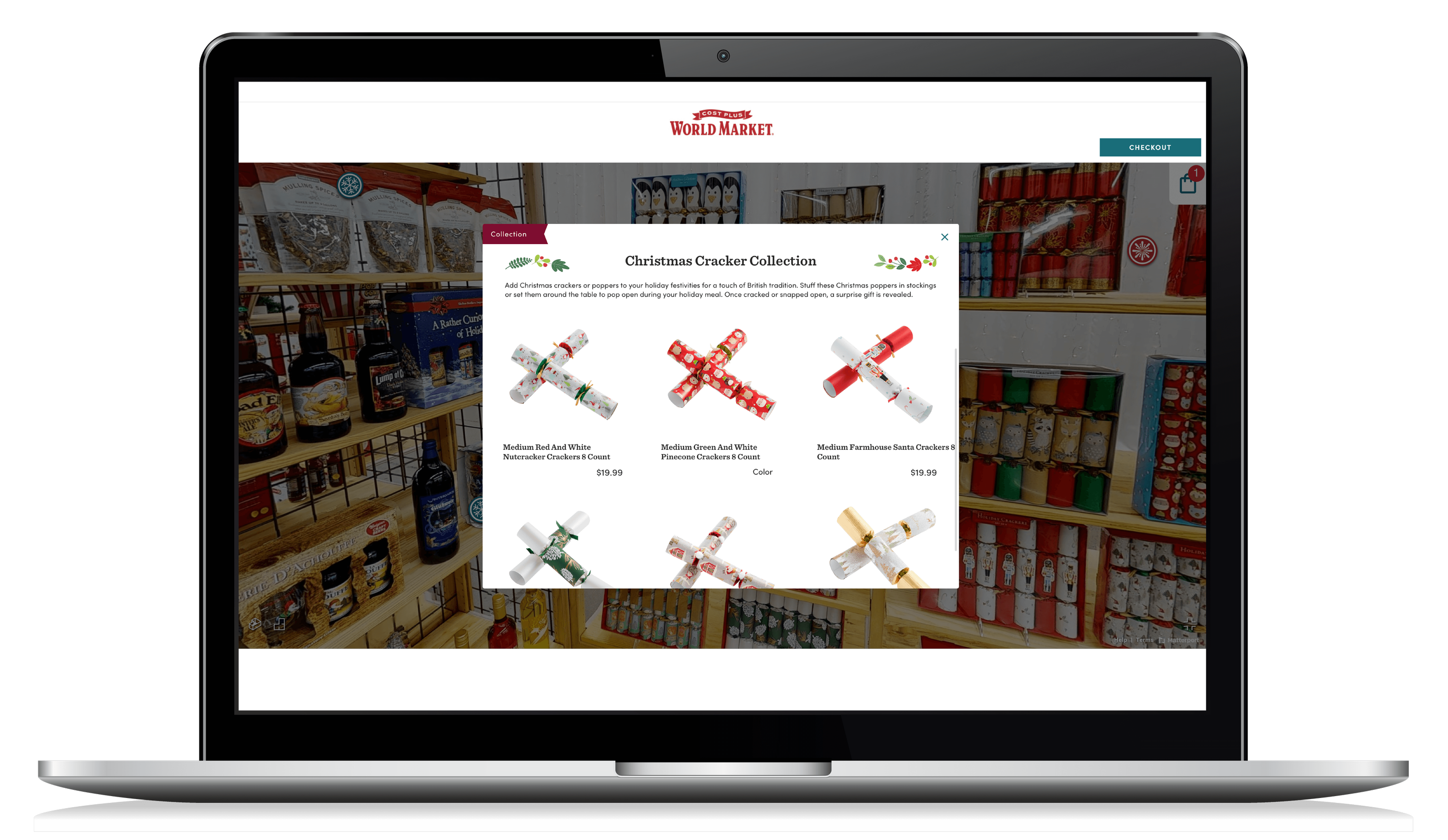 "Our team was delighted to work with World Market's teams to design an authentic and differentiated virtual holiday store in an effort to boost holiday sales while giving customers an experience that will excite them. The level of customization in combination with the ability to shop holiday categories and products while being inspired by seasonal collections, makes this an experience unlike any other."
Tom Quish
VP, Customer Experience, Rightpoint
As a result of the overwhelming response to the initial holiday store, World Market launched an additional spring-themed virtual store for 2021.
Our Contributions
Capabilities
Emerging Technology

Virtual Worlds

Virtual Reality

eCommerce
Our Contributions
Technology
React

Matterport

Azure Functions

Azure Cosmos DB

3D Design & Development

Analytics Tracking