Reimagining Cadillac's User Experience
Cadillac
When Rightpoint was asked to reimagine the user experience of the Cadillac brand, we started with the 2023 Cadillac LYRIQ, the first all-electric vehicle GM has ever created. By taking a design and research-fueled approach, our team created a touchscreen experience that not only improved but amplified the vehicle's luxurious interior. 
Starting with a Strategy
Brand Transformation via Experience
A vehicle's user experience is quickly becoming one of the most important and differentiating parts of the overall experience. In fact, many automotive insiders believe that software will make up 90% of automotive innovation by the end of the decade. 
"In designing the user interface for Cadillac, we started with a vision but recognized that we were going to need a fresh perspective and new ways of thinking to turn it into a reality," said Bill Thompson, senior manager, user interface design, General Motors. 
Looking for a partner that would challenge the expectations of the industry, Cadillac turned to Rightpoint. Kicking the work off, the team started with a simple question: Why can't things work better? With that has our mantra, we set-out to reimagine the experience central to the future of the brand. 
"Powered by technology new to the automotive industry, we had an opportunity to reimagine the user experience of the Cadillac brand and redefine what luxury is in a digitally enabled world," said Gabriel Bridger, executive creative director, Rightpoint. 
Work
Design Research and Uncovering the Future
Initial phases focused on a greenfield approach that allowed us to explore what the future of digital experience looked like. With product cycles that can reach a decade, it was critical to create something that felt not just timeless and relevant but thoroughly modern ten years into the future. That meant the team needed to take a deep dive across adjacent verticals, geos and cultures to get a full picture of what the future of experience could look and feel like. We future-casted design themes, took a deep dive into coming technology and then looked back at the qualities of timeless design that had remained relevant for decades.  
Design came together with research to identify key opportunities in the marketplace and outside of it. What design themes and functionality would be expected in 3-5-7 years? What interaction patterns would hold true? And how could we imbue the Cadillac brand in an experience without jeopardizing usability and simplicity? 
Designing for Luxury a Million Pixels at a Time 
As a luxury brand looking to the future, it was essential that every physical or digital touchpoint of the Cadillac LYRIQ did not just reflect but actually redefine what a luxury experience is. Our team set out to create an experience that sweated every pixel, interaction and design element in an effort to deliver a truly compelling experience. 
We collaborated with Cadillac's design studio to reflect and amplify the LYRIQ's inspiring and luxurious interior often becoming an extension of the industrial design that was being formed by hand in the studio. The result was a visual language of subtle tension, simplicity and moments of data-driven beauty.  
Using 3D Design with Subtly and Sophistication 
The opportunity was big. 33-inch of advanced LED big. But successful digital experience is all in the details. To that end one key design choice we made was to make use of the Z-Axis. It allowed us the ability to create depth and dimension in even the most subtle moments of the experience. With advanced screen technology and huge processing power onboard, Rightpoint created a design language full of subtle animations and dimensional transitions that complimented the luxurious and sophisticated interior design. The result is a 3-dimensional feel that is entirely unique and points to the future of experiences everywhere.  
Through it all, we had to reflect the future of the brand and its vision of luxury. That vision was just a sketch when we began but quickly became a shared language that both Cadillac & Rightpoint developed. 
Organizational Change  
Creating an in-car experience so wildly different than what Cadillac had ever attempted required not just new thinking but a new approach to design, new software and new skills and a reinvented process. And above all else it had to scale. We helped solve this by re-thinking not just the work but the process and team that got them there.  
Rightpoint helped define new sprint-based processes leveraging new tools and new skill sets that the opportunity called for. We then worked with GM to define team structure that could take advantage of this new, more modern approach to design. Finally, we created a design system that would bring scale and consistency to the production process allowing for faster times from idea to design to production.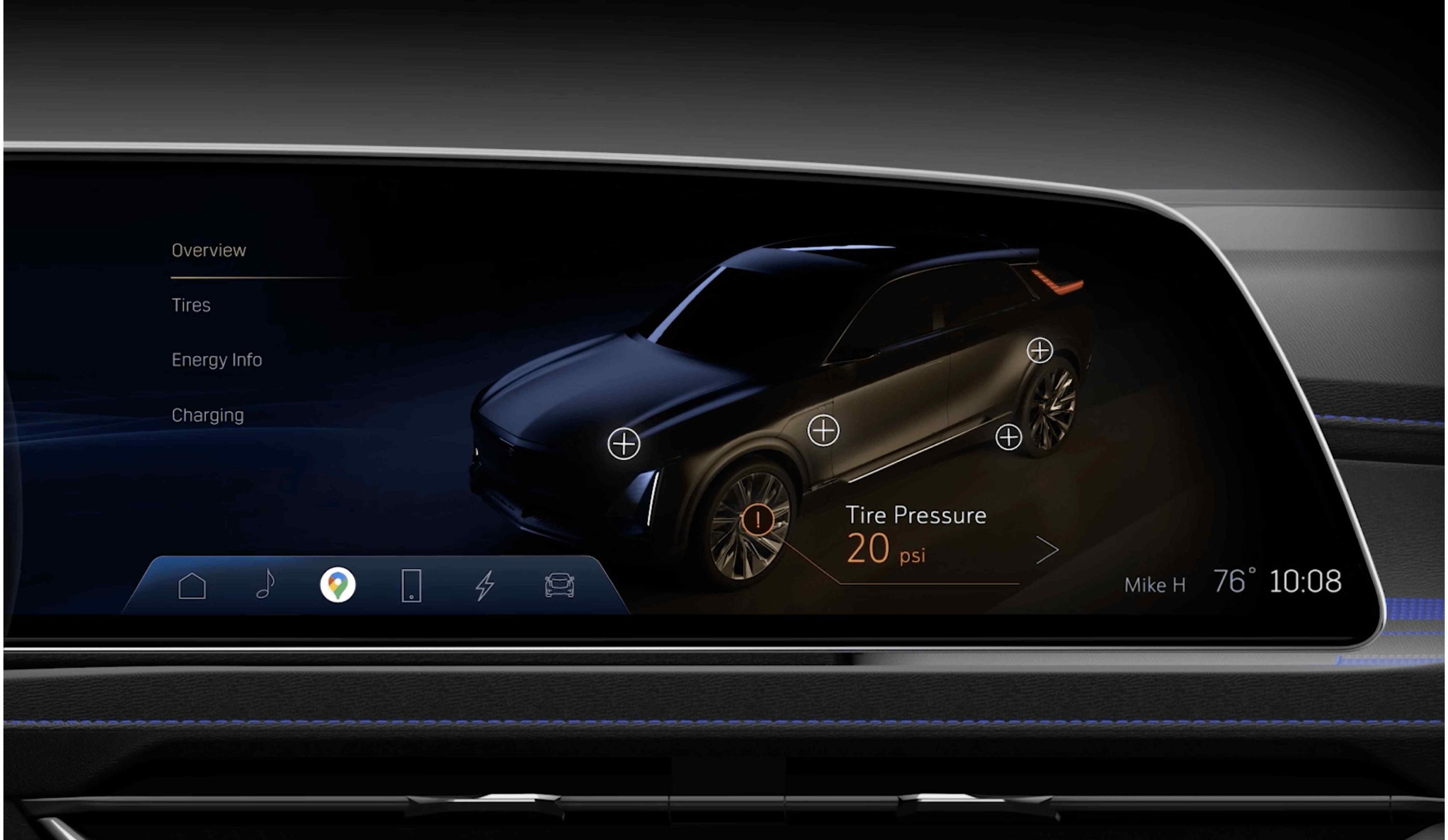 "In designing the user interface for Cadillac, we started with a vision but recognized that we were going to need a fresh perspective and new ways of thinking to turn it into a reality."
Bill Thompson
Senior Manager, User Interface Design, General Motors
Cadillac & Rightpoint have reimagined the user experience of the brand starting with the 2023 Cadillac LYRIQ. By asking why can't things just work better, we crafted an experience that feels intuitive, fresh & above all else like the future of Cadillac.  
And this is just the beginning. As we get closer to the LYRIQ's full debut we'll be sharing more about the work, process and how Rightpoint is designing the future of the brand. 
Our Contributions
Capabilities
Customer Experience

Digital Product