Enhancing Thinking Beyond Video Calls for Immersive Virtual Meetings
Genpact Oasis
For Genpact, innovation is more than just a word. It's how they pursue transformations and breakthroughs that help them create a world that works better for people.  
Genpact partnered with Rightpoint to create an immersive virtual space—which would come to be known as Oasis—where teammates, clients, prospects, and partners can move past the typical digital engagements and connect in a more meaningful way.  
The result was a customizable 3D environment that offers a new perspective on challenges and new insight into a world of possibilities and opportunity. 
Genpact is a global company with many large, multinational clients across a variety of verticals. Even before COVID-19 sent the world into turmoil, they were working on creating a virtual innovation center that could host groups for online events including new business pitches, quarterly meetings, and special experiences. For example, one especially important event Genpact had planned was hosting a livestream from the racetrack paddock with their partner, Envision Virgin Racing (EVR).  
While the pandemic initially brought a lot of things to a very sudden stop, in some cases, it also served as an innovation catalyst. As local lockdowns and severely limited international travel interrupted business as usual, they also ramped up the urgency for Genpact to launch their new interactive environment.  
As companies around the world adjusted to the new reality, Genpact was looking for a virtual space that would reflect their commitment to innovation and showcase their wide array of capabilities delivering solutions for clients in banking, robotic analytics, automotive, aerospace, energy, and many other industries. 
This new environment needed to:
Provide an immersive experience  

Support DIY customization  

Encourage engagement and interaction 

Allow the contextual presentation of multiple media types 

Enable unique storytelling and knowledge sharing 

Equipped to host groups for live events 
Scalable to feature multiple meeting spaces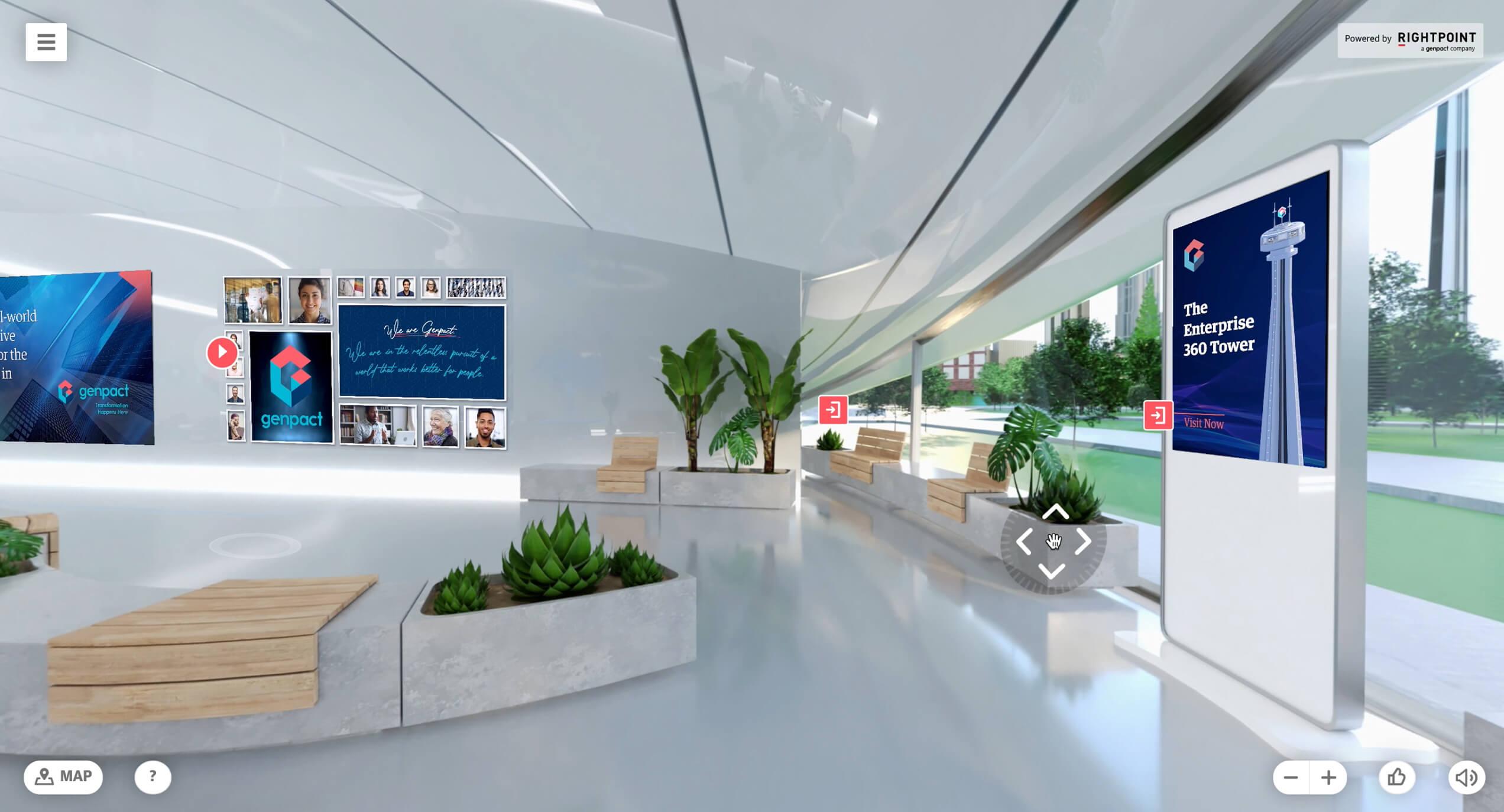 The team was working against an aggressive project timeline to ensure that the new virtual space would be ready to showcase an early-season race event for Genpact's EVR sponsorship. Covid may have made in-person events impossible, Oasis would make it possible for Genpact to adapt to the new reality.
Designing a Unique Concept and Space 
The team began with a quick-but-intensive design sprint, working with high-level Genpact stakeholders to capture and document the project goals—the feel they were looking for, the kinds of outcomes they wanted, and how the experience would engender specific emotions. The design strategy development covered: 
How different potential experiences and other variables might shape the final solution (e.g., the average length of time a visitor would spend in the space, device types (desktop, tablet, VR, etc.), content types, and so forth) 

The design of the space and the scale of the world—exploring a variety of metaphors (office building, campus, galaxy, etc.) in terms of concept, look and feel, as well as what would feel too big, too small, and just right 

Design solutions for situating content contextually within the virtual space—how to present it, offer interaction, provide navigation, etc. 

The details of how the space would deliver value, to visitors and to Genpact 
Developing an Effective Content Strategy 
In addition to designing the container—the virtual Oasis space—Rightpoint also worked with Genpact to develop a strong content strategy that would enhance the Oasis experience. Using a Miro board, Rightpoint led a content workshop to: 
Determine which types of content would provide tangible value for visitors and Genpact 

Curate specific pieces of content for specific use cases and events 

Create different kinds of content containers that would align with the intended experience within the virtual space 
Building the Technical Foundation 
Running in parallel to the design sprint and content workshop, the team began to simultaneously lay the technical foundation for the virtual space, including: 
Creating the different spaces that would be part of the overall Oasis environment 

Building the navigation and determining how to define and position hotspots for visitor interaction 

Developing the CMS for branded, time-limited customizations 

Developing the initial welcome experience that grants users entry to Oasis 
Rightpoint used several key technologies to support their vision: 
Contentful (a headless CMS) drives the entire experience, and makes it possible for non-technical Genpact team members to quickly and easily customize spaces for specific events. 

Pano2VR makes it possible to immerse users in a high-fidelity virtual space, regardless of their device's 3D capabilities. 

React enables modular content blogs and web browsing paradigms such as linking and back navigation in a virtual environment.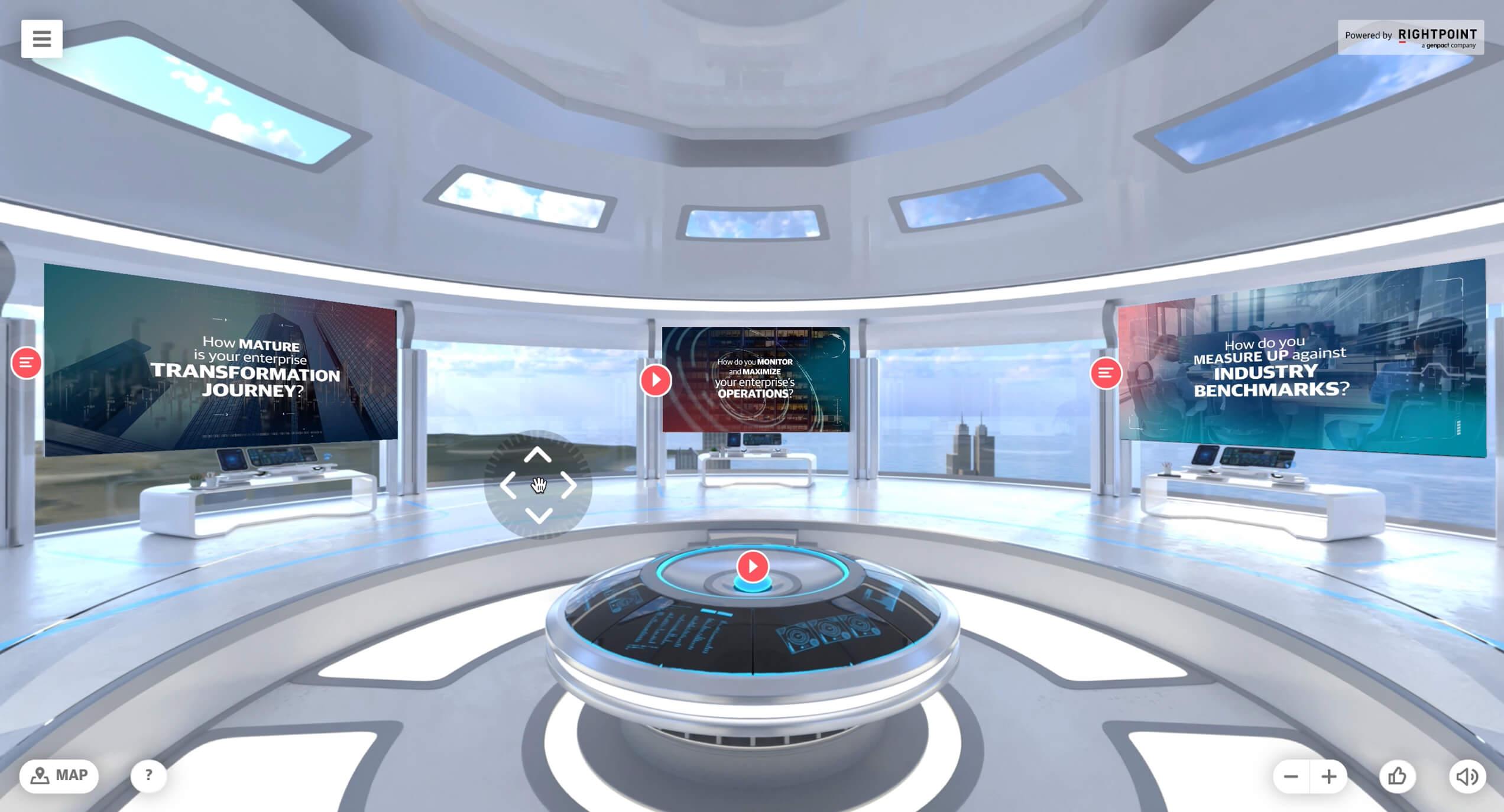 Working under tight time constraints and in territory that was wholly new to Genpact, Rightpoint delivered a unique content showcase and virtual venue for hosting live events. In the age of never-ending Zoom calls, Oasis takes virtual interactions way beyond the basics of video calls and screen sharing to create a sense of shared environment that is immersive and engaging. Oasis is endlessly scalable and can also be easily "redecorated" (without having to allocate engineering or other resources) by changing colors, logos, and other elements to coordinate with a client or event aesthetic.  
Overall, the project was a big win. It delivers the kind of immersive experience that impresses clients and prospects while simultaneously providing Genpact with a unique and powerful new way to engage visitors with their content, stories, and events. Oasis is an invitation to step outside the everyday and into a world of new possibilities. 
"The application is really mind blowing. It has really opened minds to what Rightpoint can do for clients in the future."
Tiger Tyagarajan
CEO, Genpact
Our Contributions
Capabilities
Design

Engineering

Strategy
Our Contributions
Technology