Transforming Global Business Systems to Achieve Distinctive Client Value
Aon
With colleagues spread across 500 offices in 120 countries, Aon is the leading global insurance brokerage, risk advisor and benefits consultant. Our challenge was to drive better internal communications, collaboration and knowledge-sharing across the organization.
Building the connective tissue to empower Aon's entire global organization to best serve its clients 
Deep knowledge and industry experts are at the heart of Aon's success as one of the world's leading insurance brokerages. But rapid growth through acquisition led to separately run companies and a disparate workforce and with no shared purpose.   
Aon's vast global network created silos of people, offices and critical information needed to serve their client base. Our mandate was to arm Aon's employees around the world with the expert knowledge, tools and personalized experiences to serve their customers anywhere in the world. 
Work
Establishing a Global Governance System
We built a powerful digital workplace, knowledge sharing tools and a global Salesforce relaunch, uniting the organization around mission and culture. 
Partnering with Aon's Chief Knowledge Officer, we helped Aon realize its overarching vision of "a global office without walls." Aon Avenue is a dynamic, knowledge-sharing intranet, connecting the company's 80K+ worldwide employees through personalized communication, collaboration, content and community. 
With the internal foundation in place, Phase 2 of our engagement focused on creating a consistent sales process across their global business. A previous failed version of Salesforce had resulted in disparate processes, faulty data and a lack of faith in the system. We successfully overhauled Aon's entire sales process, empowering 7,000 brokers across 85 countries and 5 languages, and giving executives "a single version of the truth" to run the business. 
Completing the Transformation  
With the organization now mobilized to deliver on the mission internally, the final phase of Aon's digital transformation is helping drive digital transformation externally. To deliver distinctive client value through this channel, we are reinforcing Aon's expertise to deepen client relationships.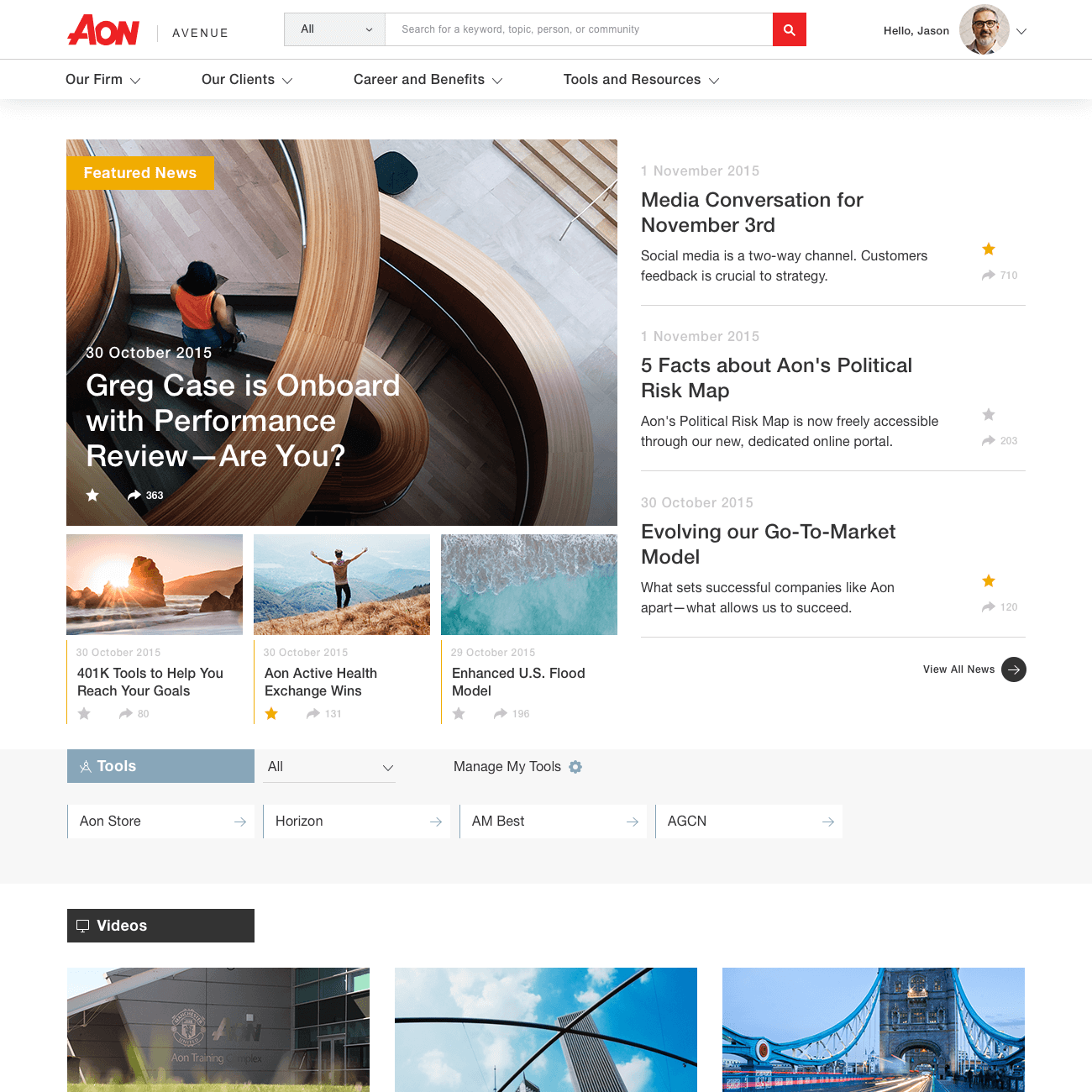 "When the team at Aon originally hired Rightpoint for our multi-year global relaunch of Salesforce, we thought of them more as a very capable vendor, but now a year and a half into our program, they have proven themselves to be a true and trusted business partner."
Heather Schreiber
Senior Director, Aon
Our Contributions
Capabilities
Strategy 

Design 

Responsive Web Development 

Product Roadmapping 

Software Engineering 

User Research 

Quality Assurance 

Ongoing Site Optimization 
Our Contributions
Technology