Building a Better Way to Work
Grant Thornton LLP
With over 8,500 employees working across the United States, the Grant Thornton professional services firm needed a digital workspace that could better serve their largely remote workforce. Through a collaborative partnership, Rightpoint helped them transform the way they work by building a newly transformed intranet that could handle evolving employee needs.  
Starting with a Strategy
Defining the Elements of a Truly Powerful Digital Workspace
Being an almost 100-year-old company, Grant Thornton had some legacy systems and processes that were in need of updates. Additionally, the firm's intranet lacked core functionality needed to facilitate everyday business tasks. Although the firm consists of a primarily remote workforce, the old intranet was only accessible via a clunky VPN access process and was not accessible via mobile at all. In addition, the existing system did not provide for user personalization and lacked a robust search feature. These shortcomings discouraged employees from using the intranet, forcing team members to come up with inefficient workarounds. 
Grant Thornton needed a new way of working. They set out to create a powerful new digital workspace with a product-focused iterative delivery model in order to empower their primarily remote workforce. The collaboration between Rightpoint and Grant Thornton began with an in-depth vision for the user experience to define the core capabilities required to transform the existing intranet into a modern digital workspace. Mission-critical features included a personalized user experience, massively improved search functionality, and anywhere/anytime non-VPN access. The goal was to create a digital workspace that would become the primary engagement channel for Grant Thornton's professionals, providing seamless collaboration across engagement teams, practices, and the entire firm.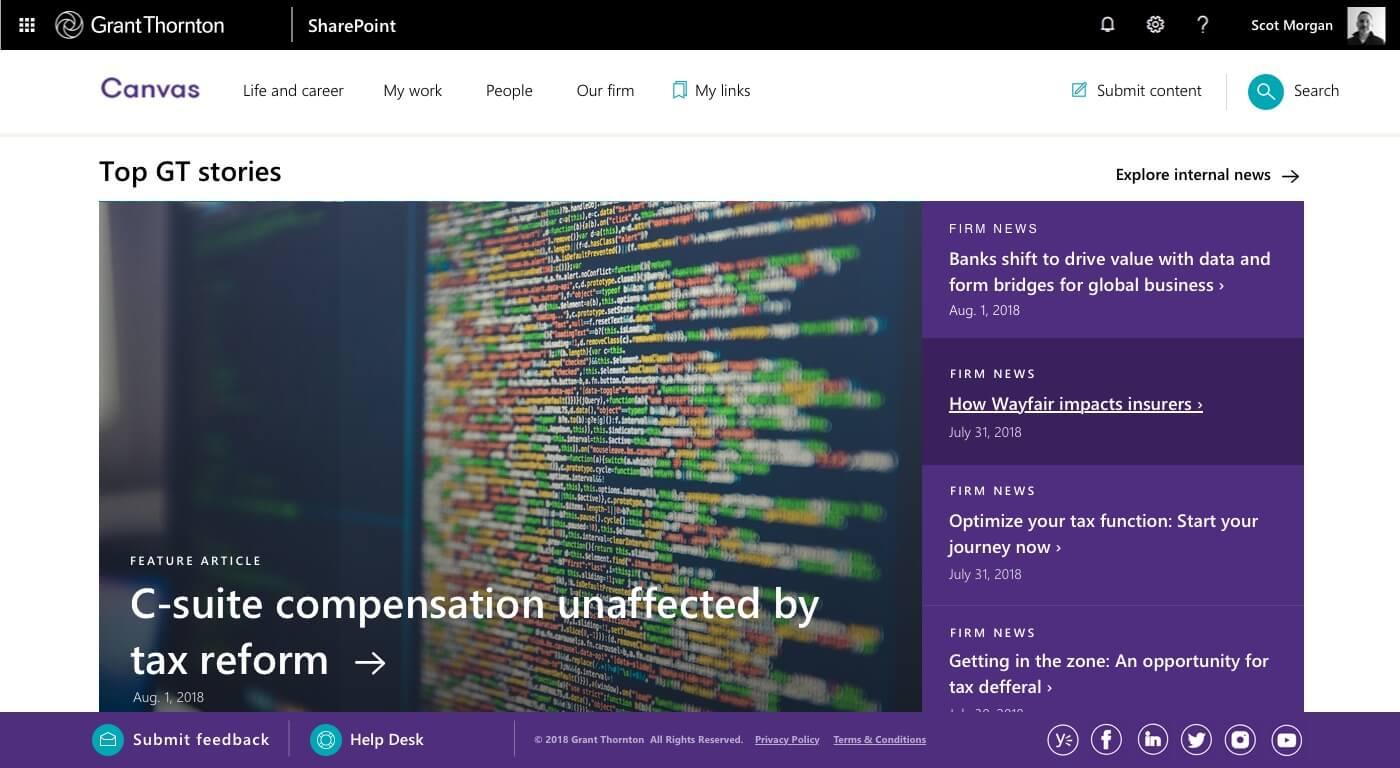 Work
A Digital Workspace that Works as Hard as the People Who Use It
To bring Grant Thornton's new digital workspace — called Canvas — to life, Rightpoint and Grant Thornton partnered on a wide range of technology integrations, a massive content migration, and the design and implementation of a completely new platform and feature set. In addition, because speed to launch was a critical success factor, the team had to complete the overhaul in less than six months. 
Highlights include: 
Increasing overall project efficiency and bringing award-winning design capabilities to the table by leveraging Spark Workspace, a Rightpoint accelerator powered by Microsoft Office 365 and the SharePoint Modern framework.  

Delivering rich employee profiles, groundbreaking search functionality, and a thoughtfully designed brand experience via integrations with innovative Microsoft technology using SharePoint Online, Yammer, Delve, Flow, Stream, PowerApps, Teams and Azure. 

Introducing a revolutionary level of personalization via an integration with Coveo, an intelligent search technology that enables a deeply impactful and organic search experience. Grant Thornton's workspace pulls from 15 internal and external sources and allows employees to quickly and easily access the information they need while also providing personalized information based on the user's organizational alignment, industry preference, career level, and local office.  

Ensuring content relevance with a robust content audit and migration that included cleanup of more than 15,000 content artifacts and more than 25 custom-built solutions within the legacy intranet as well as the migration of more than 10,000 content artifacts into the new SharePoint Modern ecosystem.  

Providing Grant Thornton employees with a game-changing mobile experience that frees them from VPN and makes remote access and productivity a reality. 

Attracting and retaining valuable talent with the help of a richly personalized employee dashboard, internal newsfeed, and the ability to easily locate and connect with colleagues for collaboration.  

Introducing Grant Thornton to an Agile Project Management methodology which speeds the delivery and testing of critical Canvas functionality while allowing for mid-project reprioritization when direction changes. 
Change management was a critical element to ensuring success in organizational adoption of the Canvas initiative. Grant Thornton and Rightpoint partnered together on development of the change management strategy and execution, delivering a robust change plan that included: 
Creation of a change management approach tailored for agile project delivery with frequent releases. 

Execution of an actively engaged Canvas stakeholder network through social media campaign and standing meetings. 

Development of a strong partnership between Grant Thornton internal communications team and learning and development resources for Canvas communications and on-demand learning assets. 

Continuous measurement of the impact of the change management efforts, including readiness and change effectiveness surveys as well as production of a Canvas visual dashboard that helped show lift between pre and post launch.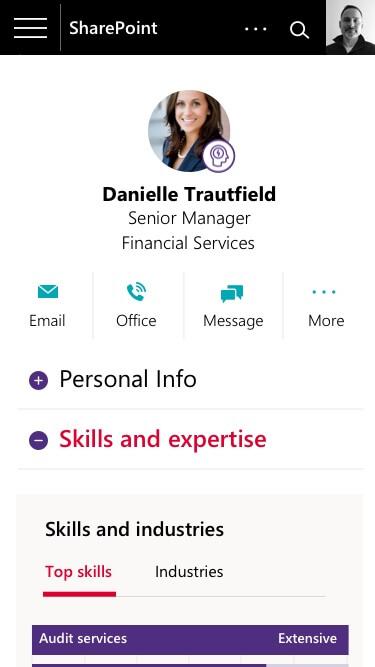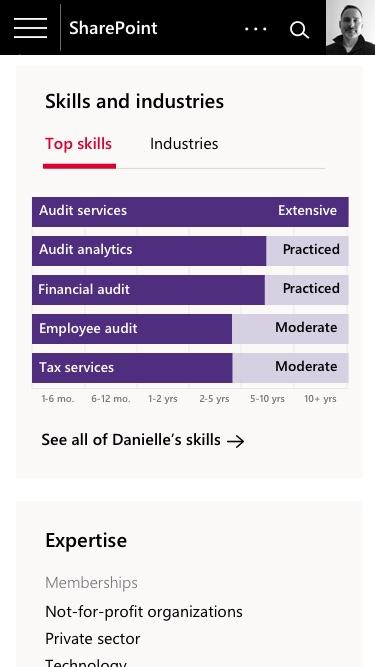 "Rightpoint's strategic reimagining of our intranet into a thoroughly modern digital workspace has profoundly changed the way our employees share and access knowledge, experiences, and insights. The integration of an advanced universal search function was a particularly valuable element of the transformation, providing a major gain in efficiency and giving us a tangible advantage in the market."
Doug Kalish
Senior Director Knowledge Management, Grant Thornton
Canvas has helped Grant Thornton drive business growth and enhance employee satisfaction within the firm. Not only did the new digital workspace create substantial efficiencies in day-to-day work, it also garnered enthusiastic testimonials from all across the company's workforce. Team members were consistently impressed with Canvas' speed, accuracy, and ease of use. One managing director summed it up, "With no training and very little thought, I quickly found what I was looking for in just a few clicks." 
99%
Increase in employee engagement on a regular basis
100%
Increase in search efficiency
500%
Increase in mobile users in the first two months
Our Contributions
Capabilities
Digital Workspaces

Digital Transformation Roadmap

Information Architecture

User Experience Design

Visual Design

Content Audit and Migration

Content Taxonomy

Content Management Systems

Microsoft Solutions
Our Contributions
Technology
Spark Workspace

O365

SharePoint

Coveo