Tuesday, September 12, 2023
Getting More CX Value from Data with Adobe Experience Platform
Co-authored by Kyle Rosenlof and Scott Cannon
Getting More CX Value from Data with Adobe Experience Platform
– Group Analytics Director — Kyle Rosenlof
Data is the foundation of effective customer experience design and the fuel for engaging customer journeys. Collecting customer data is relatively easy, but the volume of data generated by customer activity means that much of it is never used. Adobe Experience Platform (AEP) can help your organization do more with that data. AEP's native tools can help organizations refine customer insights, increase engagement, reach new audiences, and map and optimize customer journeys.
In this post, we'll look at AEP's three primary applications that help companies leverage their data better. Adobe Real-Time Customer Data Platform (CDP), Customer Journey Analytics, and Journey Optimizer can work together or as separate apps to fit your data management needs, tech stack, and customer experience goals.
Real-Time CDP Accelerates Profile Creation and More
Traditional analytics solutions can identify users when they return to your website, but they often lack the ability to bring in user activity data from other channels. Real-Time CDP can collect customer data across channels and systems for unified customer profiles that allow you to better understand your customers, create personalized experiences, segment and model audiences more efficiently, and adhere to data privacy standards and best practices.
Let's use co-author Scott as an example. Real-Time CDP can collect his data from all the channels he uses and the siloed company systems that contain information about him. Real-Time CDP then resolves that data to ensure it belongs to Scott. The platform allows the CX team to include Scott's profile in segments with other customers who share similar characteristics and behaviors. Now, the company can serve personalized content to Scott across channels based on his unified profile. Scott notices how well the company anticipates his needs, which increases his positive feelings for their brand.
Unify and Leverage Your Customer Journey Data
The company can gain more insights into Scott's customer behavior with Adobe Customer Journey Analytics (CJA). CJA makes it easier and less expensive to stitch together a customer's data for more comprehensive data insights across the different touchpoints and devices that people use to interact with a brand, whether you're using Adobe Analytics, Google Analytics, or other platforms. And although CJA can operate without Real-Time CDP integration, Real-Time CDP integration can help you accelerate your CJA deployment.
What makes CJA different from Adobe Analytics, which many organizations already use? CJA gives you unlimited variables and events, unlimited unique values, and the ability to edit historical data and to combine multiple dataset implementations in one place. In many cases, companies find that once they have CJA up and running, they no longer need to maintain Adobe Analytics, because CJA fills that role while delivering powerful filtering, querying, visualization, and reporting capabilities for customer journey insights.
CJA also allows you to stitch data together from different systems. For example, mobile app data and website data residing in separate report suites, properties, or platforms can be combined in CJA to give analysts a single view of customer engagement. You can also bring in profile data and combine it with web or app data to see information about your users such as age, gender, and other demographic information. This can help you understand whether and how your intended audiences are consuming your content.
Automate Your Customer Journey Workflows
You can use Adobe Journey Optimizer (AJO) to automate workflows based on real-time customer insights and actions for personalized, relevant actions across channels. For example, you can create a flow that sends welcome text messages, emails, or push notifications to new customers as soon as they create accounts on your website.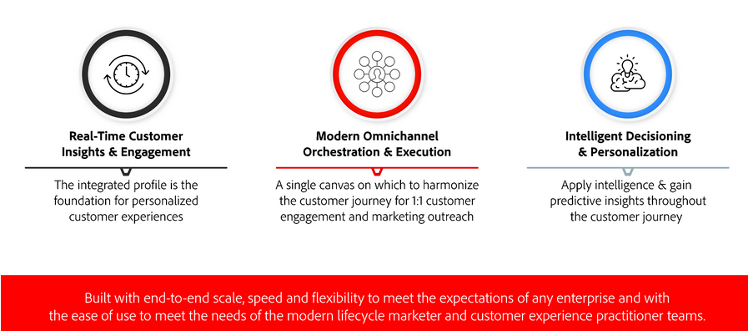 Source: Adobe, Get Started with Journey Optimizer
AJO can be especially helpful if you need to manage next customer action steps across multiple touchpoints and channels. For example, companies with a multistep registration process can use AJO to send reminders to individuals at the optimal time in the channels they prefer, to help increase the number of customers who complete their registration. Integrating AJO with CJA will give you a comprehensive view of your customer journeys and make it easier to generate data visualizations and reports.
Planning Your AEP Tool-Enabled Projects
Implementing Adobe Real-Time CDP, Customer Journey Analytics, or Adobe Journey Optimizer starts with clarifying your experience goals and how you expect these solutions to help you reach them. Next, identify requirements for setting up the tools you're going to use. For example, you may need to reformat your existing data to align with Adobe's formatting standards before you can feed that data into Real-Time CDP.
You'll also need to map your planned experience flows across all relevant channels. Establish KPIs for your new processes so you can see if your flows are leading to the kinds of customer interactions you want, and so you can make changes if needed to further optimize performance.
Rightpoint + Adobe Experience Platform
Adobe Experience Platform gives your team the tools to create more complete customer profiles for better customer journeys. Rightpoint has years of Adobe Experience Cloud integration experience to help you implement the right AEP applications for your business needs.