Helping Walgreens Achieve Their Intranet Vision
Walgreens
When Walgreens needed to reinvent their intranet for more collaboration and communication between employees, they partnered with Rightpoint to help bring it to life.
Starting with a Strategy
Designing an Intranet from the Ground Up
The Opportunity
Walgreens is no stranger to innovation. Since the first store opened in 1901, Walgreens has been focused on innovating for customers, employees and the industry as a whole. And that need for innovation extended to their intranet, which had grown organically over a number of years. Its interface was due for an update, and the overall user experience needed to be refreshed. Plus, there was now an even higher demand in the business for collaboration and cross-company recognition. The answer was clear: Walgreens needed to build a new intranet and collaboration strategy. 
The Insight
Walgreens' vision was to create an intranet, called The Wall, with social elements that fostered innovation, collaboration and employee engagement. The three main goals included: 
1. Increase communication and engagement  
2. Inspire innovation and enhance culture  
3. Encourage recognition  
It was a significant project and it had to be done correctly, since you never get a second chance to make a first impression. As with any enterprise implementation, the scale and scope of creating The Wall could have easily derailed the project without the right processes and partnerships in place.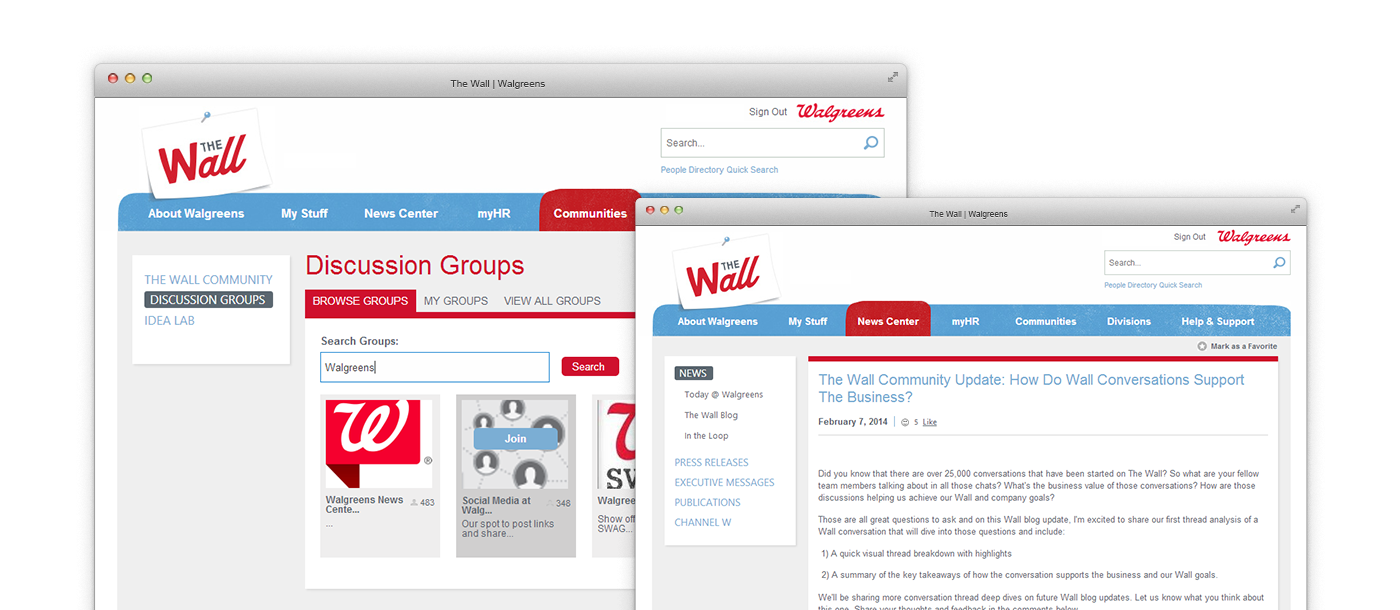 Work
Innovation Via Collaboration
Initially, Rightpoint was brought onboard to work on the user experience and design of The Wall, but that role quickly expanded in both scope and responsibility as Rightpoint became a trusted partner. This included helping define business requirements, providing project management support, redesigning the site and a separate ideation platform (including designing a new logo for each), defining a content strategy, collaborating on the governance of the site, helping to structure the overall timeline between all the vendors and internal teams involved, and development of the intranet and integration with the ideation platform.  
Rightpoint ensured Walgreens was set up for success by supporting the internal Walgreens team in socializing milestones with leadership along the way, and providing constant, clear communication and transparency with the team. 
"Rightpoint was truly a go-to partner on this, in the trenches every day (and weekend)," said James Warda, Walgreens internal communications team lead. "I always ask myself one question about any business partner: do they make my life easier or harder? With Rightpoint, they made it easier, hands down." 
George Daumen, Warda's IT partner on the project, echoed Warda's praise, "Rightpoint delivered innovation with execution certainty and high quality." 
300
Online Collaboration Groups
Our Contributions
Capabilities
Branding

Content Strategy & Creation

Design

Strategy
Our Contributions
Technology
SharePoint 

O365 

.NET (SharePoint Add-in Framework)