Leveraging End User Insights and Smart Design to Drive Medical Device Adherence
NeuroMetrix Quell
NeuroMetrix is an innovation-driven healthcare company that combines bioelectrical and digital medicine to address chronic health conditions. Their over-the-counter pain relief device, Quell, is a 100% drug-free way to manage pain through a combination of advanced neurostimulation technology and the Quell Relief app. NeuroMetrix partnered with Rightpoint to solve the challenge of engaging users more fully during the first 30 - 60 days after purchasing Quell.
Starting with a Strategy
Activating Healthier Patient Outcomes through Engagement
To ensure the most successful health outcomes for Quell users, NeuroMetrix knew it was imperative to help these individuals build daily habits around app and device usage. Customer history had shown that when someone suffering from chronic pain used Quell consistently for the first 30 to 60 days, they were more likely to reap the full pain relief benefits of the product because of the disciplined, habitual usage. While Neurometrix was transparent with customers about the importance of regular and frequent engagement, they believed there was room to improve. They partnered with Rightpoint to identify and design new strategies for engaging Quell users more effectively, an objective which would greatly increase the company's ability to deliver the pain relief their customers need.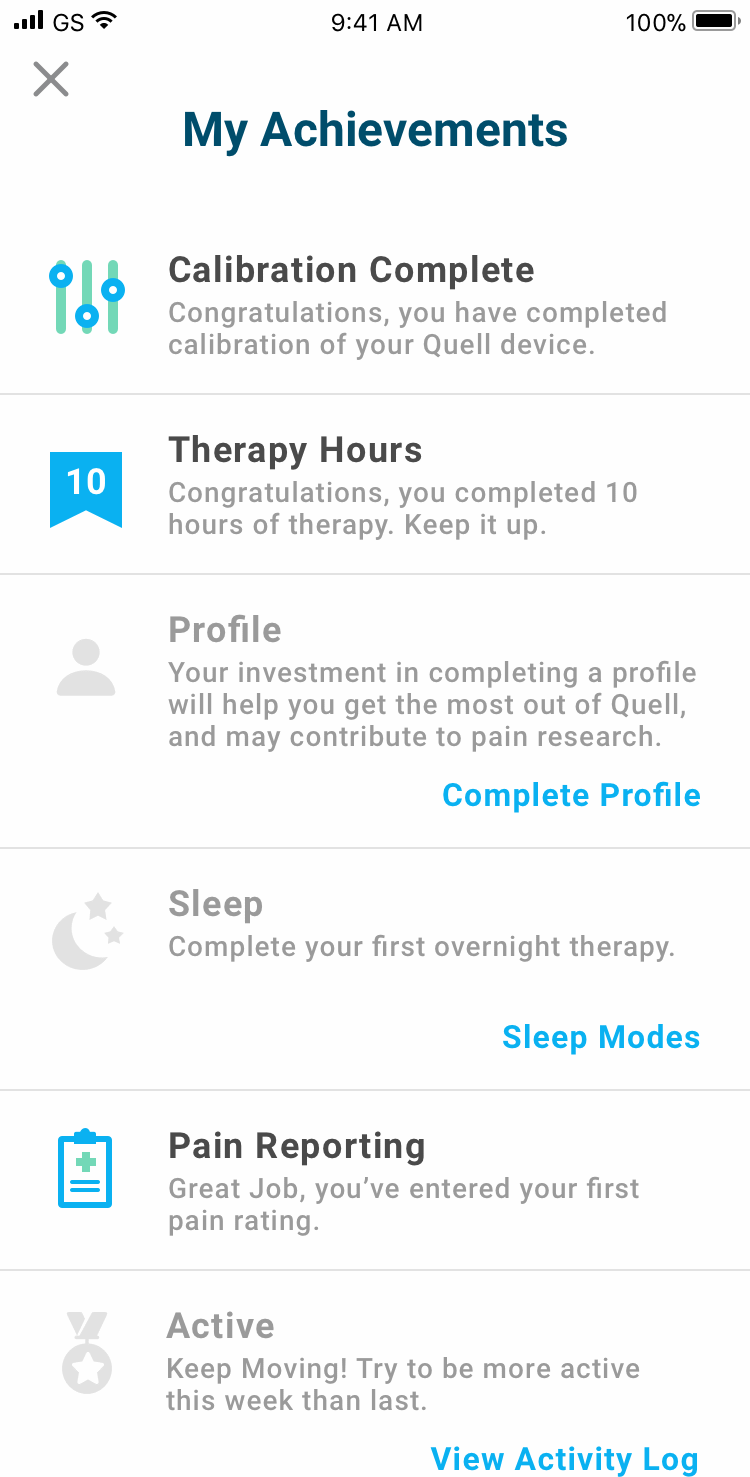 Work
Transforming Customer Insights into a More Engaging Customer Experience
Over the course of a 3-month research and design engagement, Rightpoint helped Quell leverage its vast data set to uncover strategically valuable opportunities to evolve the customer experience in a way that would positively affect engagement with the app, and—ultimately—user health outcomes. 
Discovery and Insights 
The first phase focused on in-depth discovery including user research and usability testing. This process included a detailed analysis of existing customer data, a customer survey, and 1:1 customer interviews. In all, the team collected over 650 total responses, which generated a wide range of insights about usage motivations, habits, patterns, and drop-off points. The team also layered in details from a careful assessment of the competitive landscape. Having gained a deep understanding of the customer experience—what defines and affects it—the team had what it needed to develop an engagement strategy tailored to the exact needs of Quell users. 
Strategy and Innovation 
Having uncovered key knowledge gaps and user frustrations, Rightpoint adapted their expertise on driving engagement in a wide range of consumer apps to Quell's digital therapeutics case. Functionality concepts included the introduction of a 30-day challenge, streaks, and milestones to add a gamification element as well as the ability to set aspirational goals with a personal touch (such as "play a round of golf"). In addition, the team focused on designing a customer-centric, progressive onboarding experience that not only reinforced the benefits of using Quell, but also collected valuable user information that could be used to further personalize the customer experience. 
Information Architecture, Design, and Usability Testing
After outlining a variety of potential user flows, Rightpoint developed conceptual designs, wireframes, and clickable prototypes that represented the visual direction and key workflows for the new engagement strategy. Throughout this process, Rightpoint used a rapid iteration approach that accelerated the introduction, testing, and refinement of new features. This method combined with the use of carefully segmented groups to assess the viability of each new feature, allowed the team to arrive at the final solution quickly and efficiently. 
"After careful analysis of customer data and the collection of critical user insights, Rightpoint created a new application design and experience that encourages users to participate proactively in their own health outcomes by engaging more consistently and deeply with Quell's mobile app. This achievement helps us to fulfill our mission of helping Quell customers manage their pain more effectively and easily."
Frank McGillin
Chief Commercial Officer, Quell
Our Contributions
Capabilities
Mobile and Emerging Technology
Our Contributions
Technology