World's Leading Window Film Manufacturer Futureproofs By Investing in Digital Commerce
Madico
Madico is one of the world's leading manufacturers of window film, coating, metallizing and laminate solutions. Their products can be found across a wide range of industries such as automotive, healthcare, architecture and even aerospace. Madico partnered with Rightpoint to create and design a custom website experience.
Utilizing Magento Cloud, Rightpoint designed an end-to-end catalog experience that prioritizes installer and dealer pricing and assortment, while keeping with Madico's existing modern branding. Creating a buyer portal was just the beginning, as tightly-integrated back-office inventory and pricing is key to the digital buyer experience. 
Madico's investment in digital commerce is just the beginning of a multi-prong strategy to expand their reach as their sales teams can now focus on new market development. With their ecommerce site they were looking to increase the average order value through upselling and cross-selling. In addition, they were looking for the ability to offer targeted discounts and reduce the manpower needed to take manual orders over the phone. This site provides a platform that is accessible to their customers 24/7 to order film, tools and accessories. B2B purchasers are adopting the platform, and B2C customers are able to utilize Madico's industry-leading content-to-commerce instructional model for self-service installation of window film and smartphone glass protection.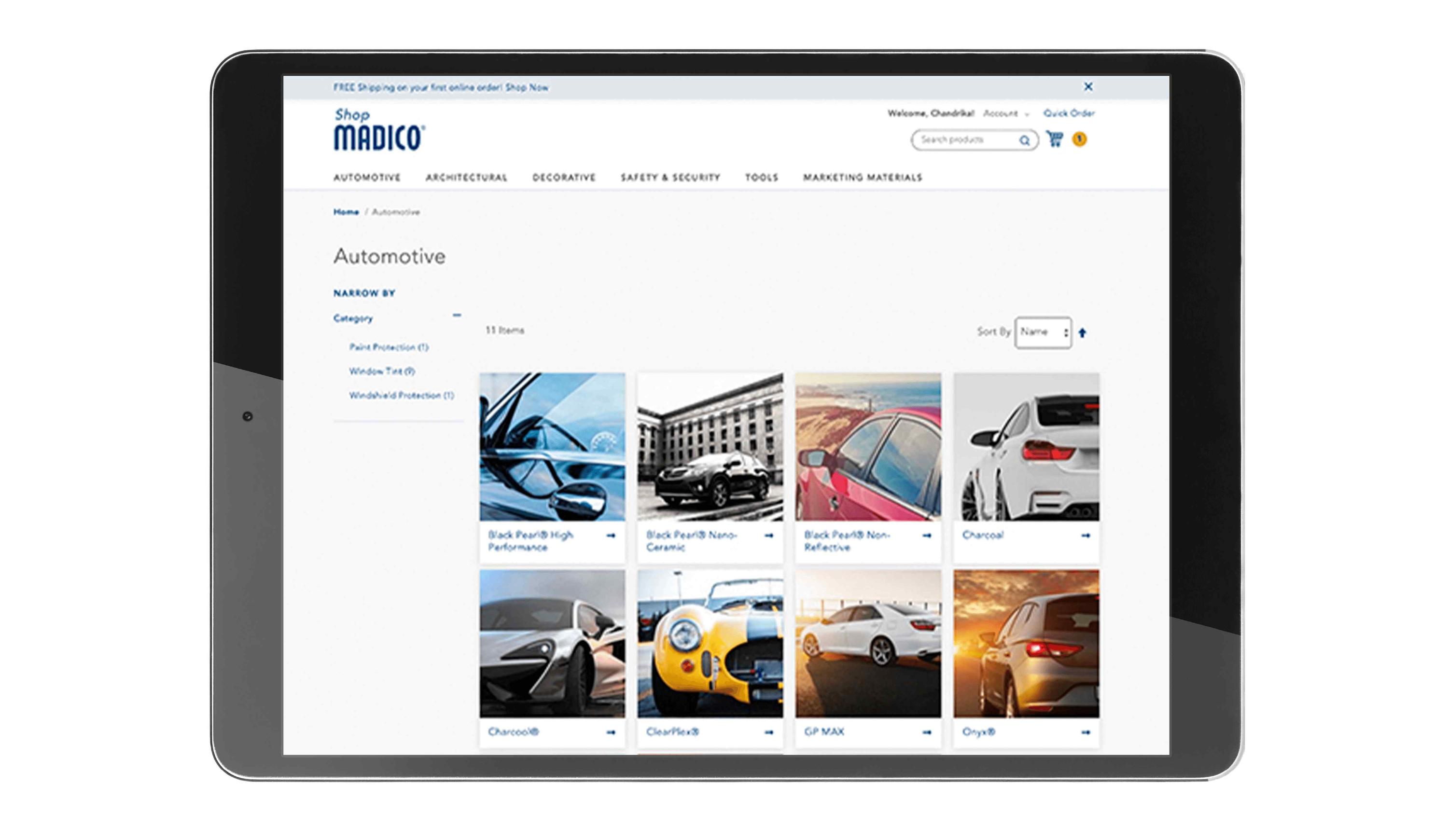 This new build boasts a flexible display of product information and features Madico's three B2B customer programs. Only Madico customers are given access to shop this gated site. From the admin, approved users can assign roles and buying permissions within their organizations. Page Builder also provides Madico with added flexibility when creating and maintaining content throughout the site. 
Welt Pixel Analytics Enhanced Ecommerce UA GTM Tracking was also installed, giving Madico advanced ecommerce tracking throughout the entire shopping funnel. 
300x
Growth in users since launch
Our Contributions
Capabilities
eCommerce and Websites

User Experience (UX) and Design

Digital Strategy
Our Contributions
Technology
Magento 2

Page Builder

Google Tag Manager Tracking