Tuesday, March 22, 2022
Entertainment Brands Are the New Commerce Powerhouses
By Phillip Jackson
Entertainment Brands Are the New Commerce Powerhouses
– Phillip Jackson
I was a bit shocked when I read that, especially when one considers the companies' vastly different models. As a platform for content creators, YouTube itself creates virtually no original or licensed programming. Netflix, on the other hand, only offers licensed content and original programming, much of which sparks national conversations on culture. That YouTube outpaced Netflix is an indication of a major cultural touchstone.
Can Netflix and other entertainment companies keep up? I think yes. Let's explore how both YouTube and Bungie are converging entertainment and commerce to open new revenue streams. 
YouTube & Commerce
YouTube has a profitable business model thanks to the creators who establish YouTube Channels, more than two million of which participate in its YouTube Partner Program (YPP). YouTube is serious about helping its creators monetize, and offers 10 different ways for creators to earn revenue, including ads, merch shelves, Channel Memberships, Paid Digital Goods, and more. In the previous three years YouTube has paid more than $30 billion to creators, artists and media companies. But with those creators, YouTube wouldn't be in business. 
YouTube's merch shelf is an interesting option. It allows channels with at least 10,000 subscribers to showcase their official branded merchandise right on their watch page on YouTube. Some channels, like DewieDiePie, earn millions in merch sales each year. The company will even connect content creators to manufacturers to create their merch to help them get their shelves off the ground.
Going further, many content creators translate their followings into off-platform brands. YouTube creator McPeter McKinnon has over 5.6 million subscribers who watch his video for tips on photography and filmmaking, and has gone on to launch coffee brand, among other merch.
Bungie & Commerce
YouTube isn't the only entertainment company that actively connects content to commerce. Rightpoint's client, Bungie, offers a free, multiplayer first-person shooter video game called Destiny 2, which has a player player base of 38 million. Destiny 2 has evolved a story line over the years. Today, players are called Guardians and their job is to protect the Earth's sole remaining safe city. Bungie has sold Destiny 2 collectibles for nearly a decade, but recently upped their merch game. With the help of Rightpoint, Bungie has launched an Adobe commerce store that is powered by in-game experiences. Players can unlock new parts of the physical merchandise store as they rack up points and progress to higher level tiers.
Bungie isn't alone in doing this. Many brands are actively pursuing seamless connections between the virtual and physical worlds via non-fungible tokens or NFTs. NFT holders with a Web3 wallets can gain access to exclusive merchandise in ecommerce stores as well as virtual concerts and other events, proving that there is a market for virtual experiences leading to commerce.
In fact, connecting entertainment brands to physical merchandising is a hot topic right now, and a lot of smart people are thinking about ways to connect in-game and in-content (e.g. a movie on Netflix) experiences to real-world commerce.
Last year, Netflix launched an online store where consumers can purchase show-themed merchandise, such as Squid Game themed tee-shirts and hats or select from a line of Emily in Paris sunglasses.
But shoppers can also buy products that are specific to the Netflix platform, such as a Chilleez, which is "a line of plush toys that are characters based on the streamer's default profile icons."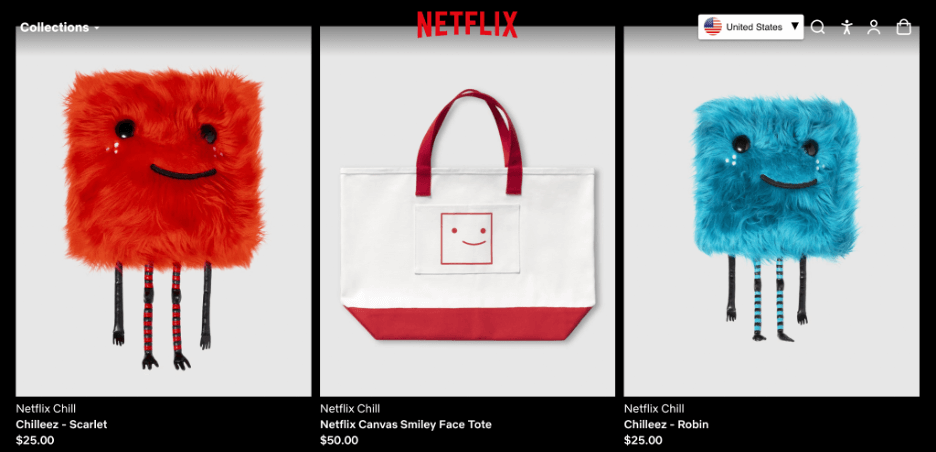 The Chilleez come with their own backstory (e.g. "Scarlet is the adventurous type and likes to be the life of the party" while Dusty likes to play chess), lest anyone think their Chilleez is just an overpriced pillow.
Recently, Netflix introduced five iOS games, based on Netflix shows like Stranger Things and Shooting Hoops that subscribers can play via the Netflix App. There's nothing to stop Netflix from following Bungie's example by enabling gameplay to unlock access to show-themed merchandise.
Entertainment Brands As Commerce Powerhouses
Every entertainment company with substantial intellectual property can follow the Bungie example and seamlessly merge online experiences with real-world commerce. Consider the revenue that Disney can earn by enabling consumers to purchase Star Wars or Marvel gear from within Disney+.
Entertainment and commerce are converging such that I see a future in which all streaming entertainment content platforms will have a commerce component.