Friday, July 8, 2022
New Guards & Playbooks for the Luxury Digital Experience
By Phillip Jackson
There is a lot of interesting and prescient news coming out of the luxury space of late, and it's worth taking a moment to consider what it all means.

New Guards & Playbooks for the Luxury Digital Experience
– Phillip Jackson

On April 5, 2022, Farfetch and Neiman Marcus Group announced a partnership in which Farfetch will acquire a minority stake in the fabled luxury brand. NMG is the parent company of Bergdorf, and Farfetch will also operate the Bergdorf brand on its behalf.
If you're not familiar with Farfetch, it's a British-Portuguese luxury holding group and online luxury fashion platform that sells high-end products from over 700 boutiques and brands. Its labels are young and global, including New Guards Group, which owns the Off White Virgil Abloh, among other newer luxury brands.
What's interesting is that as a new player, Farfetch is investing in the traditional luxury retailers, so there is a changing of the guard happening before our eyes.
Farfetch's digital-first strategy paid off in the pandemic. Most of its nine brands are direct-to-consumer to one degree or another, and most of them operated under the new luxury playbook: exclusivity through limited availability, but equal access for all. 
Tiffany & Co.'s April Fool's Joke
Another interesting development: On April 1st, Tiffany & Co announced a fake cryptocurrency, TiffCoin, promising "exclusive product launches, NFT releases and invite-only events for top TiffCoin holders!"
The crypto part turned out to be an April Fool's joke. But the company went ahead and minted 499 physical 24k TiffCoins, as it is meant, per its Twitter post, to serve as a celebration of its history and an homage to Tiffany money (see inset). Ironically, these coins are designed to look like a digital rendering of cryptocurrency.
Not surprisingly, many assumed that Tiffany & Co. was genuine in its crypto announcement for the simple reason that a great many brands are using NFTs as the loyalty, with holders gaining access to exclusive events and merchandise.
Luxury's Digital Experiences
These developments got me thinking, what are luxury digital experiences? How do they differ from the experiences offered by the more pedestrian brands?
Luxury brands tend to push the boundaries, venturing into new and uncharted territory. More than most brands, they're incredibly experimental, which these days means being technology forward.
Take Balenciaga, which created a multi-platform video game called Afterworld: The Age of Tomorrow to promote its Fall 2021 collection. Afterworld is an immersive adventure that let players walk through all the latest fashions in the futuristic world of 2031. 
Skinovation
Full disclosure: in addition to serving as the VP of Commerce for Rightpoint, I'm also a founder and host of the podcast, Future Commerce. Future Commerce's friend and contributor, Alex Greifeld, coined a term, skinnovation, to describe digital forays Afterworld. She notes that why many brands create truly next level digital experiences, too many launch projects that have a lot of PR value but are rather light on actual innovation.
The Skinnovation rates digital initiatives based on three dimensions that define a digital luxury experience: 
From skinnovation to innovation. ("Does the experience apply existing conventions from the physical world, or physical media, to the chosen digital medium? Or does it build on the tools of the chosen digital medium to create something completely new?")

From observer to participant. ("Does the experience present something aesthetically pleasing to the viewer in a linear fashion with a single path to consumption? Or does the experience provide multiple pathways for active participation that leave the door open for serendipity?")

From permanent to ephemeral. ("Does the experience attempt to create exclusivity through traditional, physical means (high prices, limited quantities, limited access)? Or does it leverage "time exclusivity" to create macro or micro experiences that exist for a limited time?")
Digital magazines, for example, only exist in the digital sphere, but they were innovative 20 years ago. Today they can be considered skeuomorphic at best. Contrast this with Balenciaga's post-apocalyptic Afterworld, which is both innovative and digitally native to some degree.
Here's how we rated brands and their digital experiences based on these dimensions: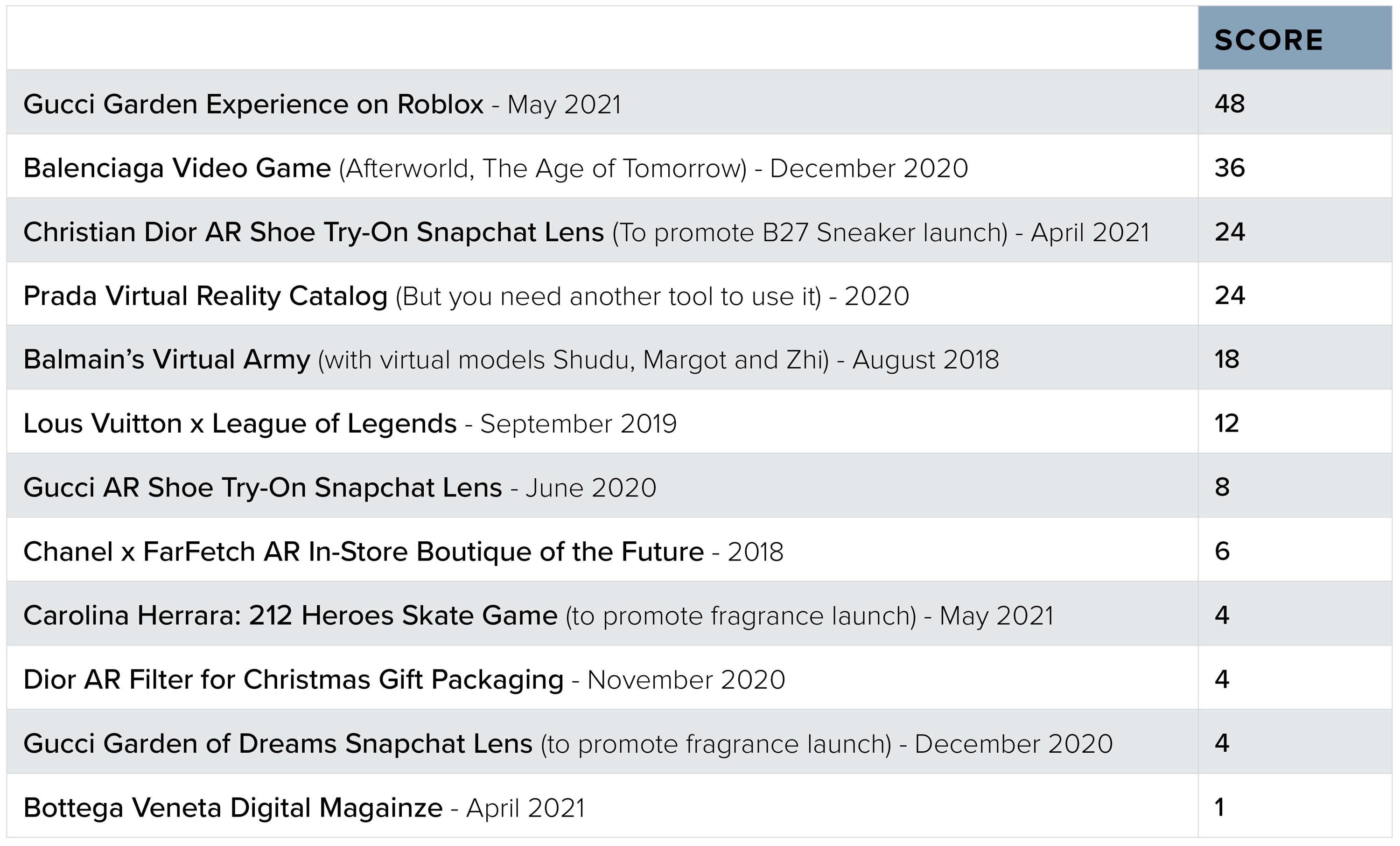 A Parting Thought
One final observation: Exclusivity is a critical part of a luxury brand's allure, and we see that playing out a bit in terms of welcoming people into their physical stores. During COVID, luxury stores implemented capacity restrictions, which is fair enough. But now that vaccines have largely (or at least somewhat) brought the spread of COVID under control, luxury brands are sticking to their pandemic playbook. Stanchions at the door limit the number of people who can come in, although everyone is still technically welcome.
This an interesting phenomenon and manifestation of the balance luxury brands must strike -- maintaining these points of friction in the customer relationship while simultaneously purporting to be open and accessible to anyone could be your customer tomorrow.
Native digital experiences will play a critical role in helping them strike that balance, as long as that technology is deployed in ways that go beyond PR and capture the consumer's imagination.