Helping Real Estate Agents Nurture Leads and Win Deals
Placester
Placester partnered with Rightpoint to create an app that connects real estate professionals to the information they need most on the go. Now agents and brokers can communicate and nurture leads from prospects to customers.
Real Estate professionals such as Agents, Brokers, Publishers, and Associations, lead busy days full of constant communication with prospective buyers and sellers in a constantly shifting environment.
The market needed a way to merge several aspects of the real estate communication process into one location for maximum efficiency. Placester assists Real Estate Professionals with day-to-day business tasks and promotion. Placester partnered with Rightpoint to develop an application that would allow real estate professionals to manage their livelihood while on the go.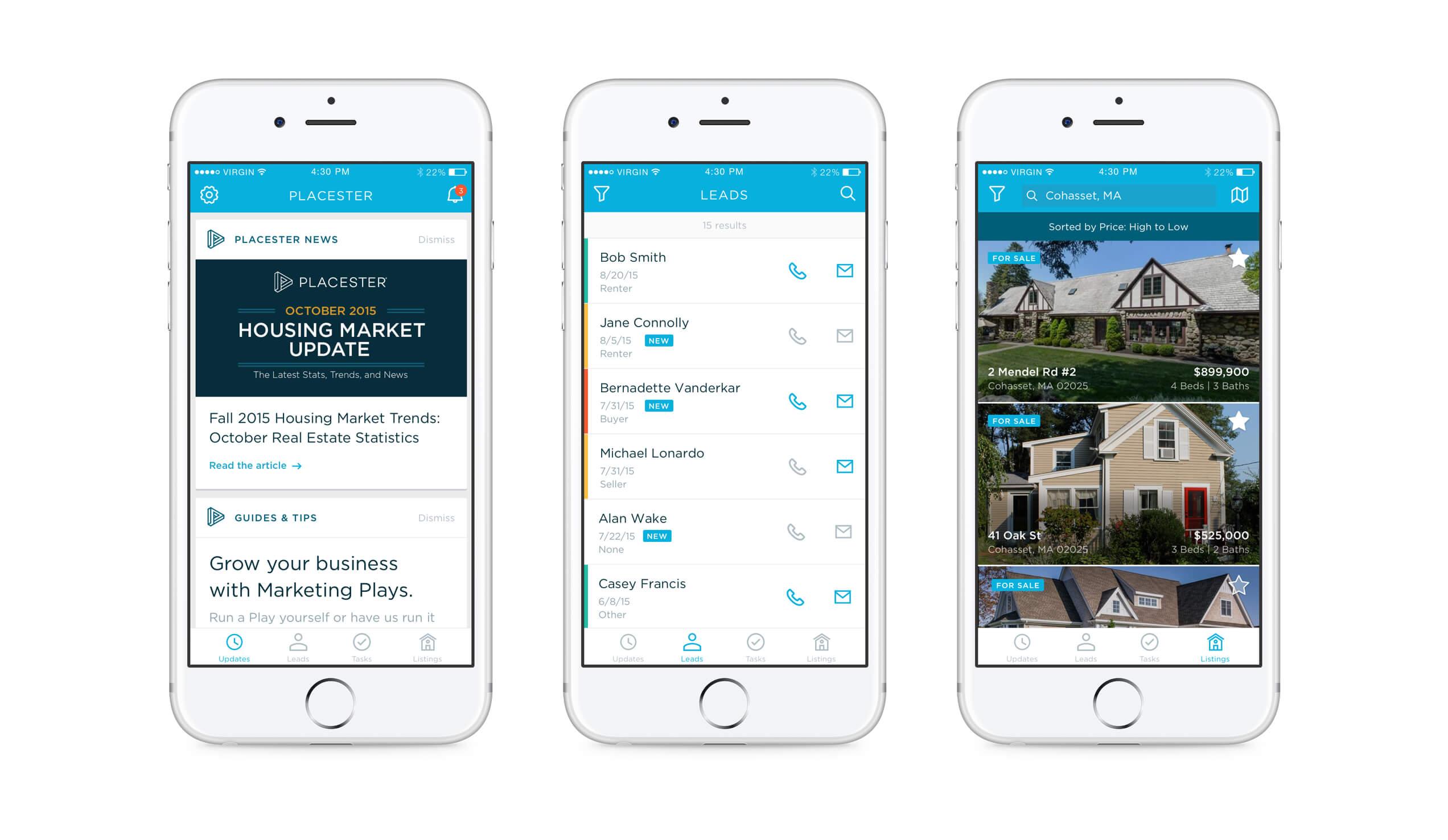 After the project kicked off, the teams collaborated to identify the most pressing needs for real estate professionals and devise solutions.
The technology needed to support a platform that allowed agents to connect and communicate with buyers and sellers in an intuitive way. The team sought to collect data that would be most actionable and useful to professionals on a daily basis.
Gathering feedback and industry knowledge from the Placester team, Rightpoint outlined the overall application flow and honed in on the core functionality. The design and development team began with the Dashboard. The goal was to show incoming leads, personalized tasks, and Placester News.
Rightpoint also added the ability to share property listings and contact leads. Other elements that make the app useful includes 3D touch support, geofencing for open houses, and support for viewing and sharing property directions with leads. All key features were made possible utilizing the power of the Placester APIs.
Rightpoint leveraged third parties to provide powerful personalization capabilities and analytics. Localytics, a Boston company with an SDK (software development kit) built by Rightpoint, integrated user insights and smart targeting to increase user engagement.
Carnival.io, a mobile messaging personalization strategy was also utilized. The goal was to design and implement 'Placester News' on the dashboard and to keep users up to date on real estate news and Placester updates. For new users, an onboarding experience explains the features and functionality to ensure long term use.
Once onboard, the notifications keep the user engaged and allows important details, such as lead activity or new listing alerts, to be brought to their attention in real time.
"We cracked the code on bringing back office insights into the pockets and purses of real estate professionals with Rightpoint."
Frederick Townes
COO & Co-Founder, Placester
Placester and Rightpoint teams built a great foundation for professionals in the real estate industry to manage leads and convert them to loyal customers. Utilizing third-party tools such as Localytics and Carnival.io, the Placester team was able to deliver the best possible experience to users. Today, the app is rated with 4+ stars and continues to fuel Placester's success.
Our Contributions
Capabilities
Mobile and Emerging Technology
Our Contributions
Technology