Building a Global Digital Future Through Innovation
Johnson Controls
Johnson Controls International is a global multi-industrial company that builds products and technology, integrated solutions and energy storage. Our ask was to digitally demonstrate how Johnson Controls is helping to build a global future that is more stable, secure and intelligent through innovation and products.
Starting with a Strategy
Unifying the Brand Based on Mission and Purpose
Johnson Controls' vast portfolio of products and services spans controls, fire, security, HVAC, power solutions and energy storage. But their mission of delivering innovation that makes the world better wasn't coming through on their digital properties. 
Our strategy was to humanize the digital experience by showing the outcome of a JCI future that highlights the company's global leadership and deep heritage of innovation. 
Work
One Global Company Creating a Positive Human Impact
We unified the website around the company's core brand promise: to make the world more comfortable, safe and predictable through a purposeful portfolio of products and innovation. 
To meet the expectations of its broad, mobile audience, we used icons in the main navigation to drive clear understanding of the three major company pillars, no matter what language, country or device the user was coming from. 
Humanizing the brand went beyond imagery and copy. We first defined how various users, from a decision maker to a facility manager, would use the site. Then we applied proven interaction from e-commerce to help with easy location of product, services or information. The end result feels personalized and smart. 
Knowing that JCI wanted to be recognized as an innovator (something they've been doing since 1885), we created a social media hub that celebrated their technological achievements and allowed them to share what they're doing with the rest of the world.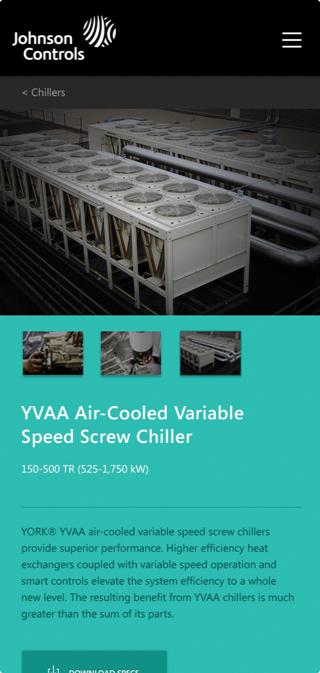 25%
Decrease in Bounce Rate
27%
Increase in Mobile Traffic
Our Contributions
Capabilities
Information Architecture & Taxonomy

User Interface Design

Visual Design

Front End Development

Usability
Our Contributions
Technology