Thursday, August 25, 2022
Universal Analytics is Going Away for Good…Time for GA4
By Michelle Spangenberg — Associate Director, Analytics and Insights
Google recently announced that come 2023, the ubiquitous Universal Analytics (UA) will stop collecting data and be no more. Google Analytics 4 (GA4) will be the only Google product for all web data collection from that point forward. While that may feel like plenty of time to consider the transition, the window to intentionally and strategically migrate is rapidly closing. 

Universal Analytics is Going Away for Good…Time for GA4
– Associate Director, Analytics and Insights — Michelle Spangenberg

This shift may raise questions like: When do we need to shift? What will be required to shift to GA4? Or will there be limitations associated with GA4? These questions are important to consider and while the shift may present challenges it also is an opportunity. If done correctly, the migration can open a world of possibilities for thoughtful and improved analytics capabilities to drive your business forward.
Key Dates & Why Following a Proactive Timeline Will Benefit Your Team
Considering the question of when – there are a few dates that your team should bookmark:  
July 1st, 2023 – UA stops processing new hits

October 1st, 2023 – UA360 stops processing new hits

January 1st, 2024 – Historic UA data will no longer be available

April 1st, 2024 – Historic UA360 data will no longer be available
These transition dates may seem far in the future but for companies to be successful, it is important they act now to develop a plan and implement GA4 site tags. Acting proactively will enable businesses to collect a complete, or close-to complete, year of historic data in GA4. This can and will minimize negative impacts to your team and ensure that they can continue to conduct YoY analysis on day one of the UA shut down. The two platforms are able to concurrently collect data through dual tagging so there is no downside to acting now. We recommend dual-tagging your site as soon as possible, ideally by July 2022, even if you start with only the out-of-the-box Google automatic and enhanced measurement events. Other migration activities can follow to execute a strategic cut over, but it is critical that organizations start thinking through the migration today. 
Approaching the Migration as an Opportunity Not a Hinderance
When businesses begin down the path to migration, they may start by asking the question - How can we replicate what we have in UA in GA4? As a challenge to your organization, instead take a second to pause before kicking off the migration to ask – How can we do things better? Are there gaps in our data? Could we make better data informed decisions in areas of our business? 
This is the opportunity to revisit the voice of both internal and external stakeholders and customers.
The migration to GA4 will require time and effort regardless of how deep you dive. There is not easy 'one-button-click' migration wizard that will make the jump for you. Nearly all tags will need to be redefined, rebuilt and relaunched so adding in a moment to ask the critical business fit questions will ensure the effort invested in the migration produces more than just a lift and shift. Positioning this effort as an opportunity not a hinderance provides the space to elevate your analytics capabilities through improved data collection, reporting, and insights generation.  
Getting Started on the Right Foot
Rightpoint has evaluated the fundamentals of this shift to develop a guiding framework that will help organizations navigate this pivot. Asking some of the key questions noted below will ensure that your organization sets an intentional path forward from the get-go, taking into consideration the full picture of the tech ecosystem, rollout considerations, and platform functionality differences.  
Historic Data: When can and should we act? Can we take advantage of the July 2022 launch date to allow for complete YoY analysis? Will we need additional historic data that should be exported from UA? 
3rd Party Integrations: Are there any 3rd party integrations that will need to be transitioned? Can we contact them to determine the go-forward plan? 
Data Storage: How could we utilize the new access to Big Query? Will we require any additional data storage functionality that would tap into a paid ecosystem? 
Tagging & Reporting: What tagging structures and reports are providing value and will need to be rebuilt in GA4? Where can we improve and expand capabilities? How might we reflect these changes in improved reporting?
Expanded Functionality: How can we take advantage of expansions in the functionality? Can we grow our cross-device analysis, audience and segmentation strategy, or other tracking capabilities?  
Limits in Functionality: Will our strategy be impacted by limitations to tracking large ecommerce catalogues? How can we work around limitations in ecommerce data? 
A full comparison of the two platforms is depicted via the visual below which notes the tech ecosystem considerations, rollout considerations, and platform functionality differences.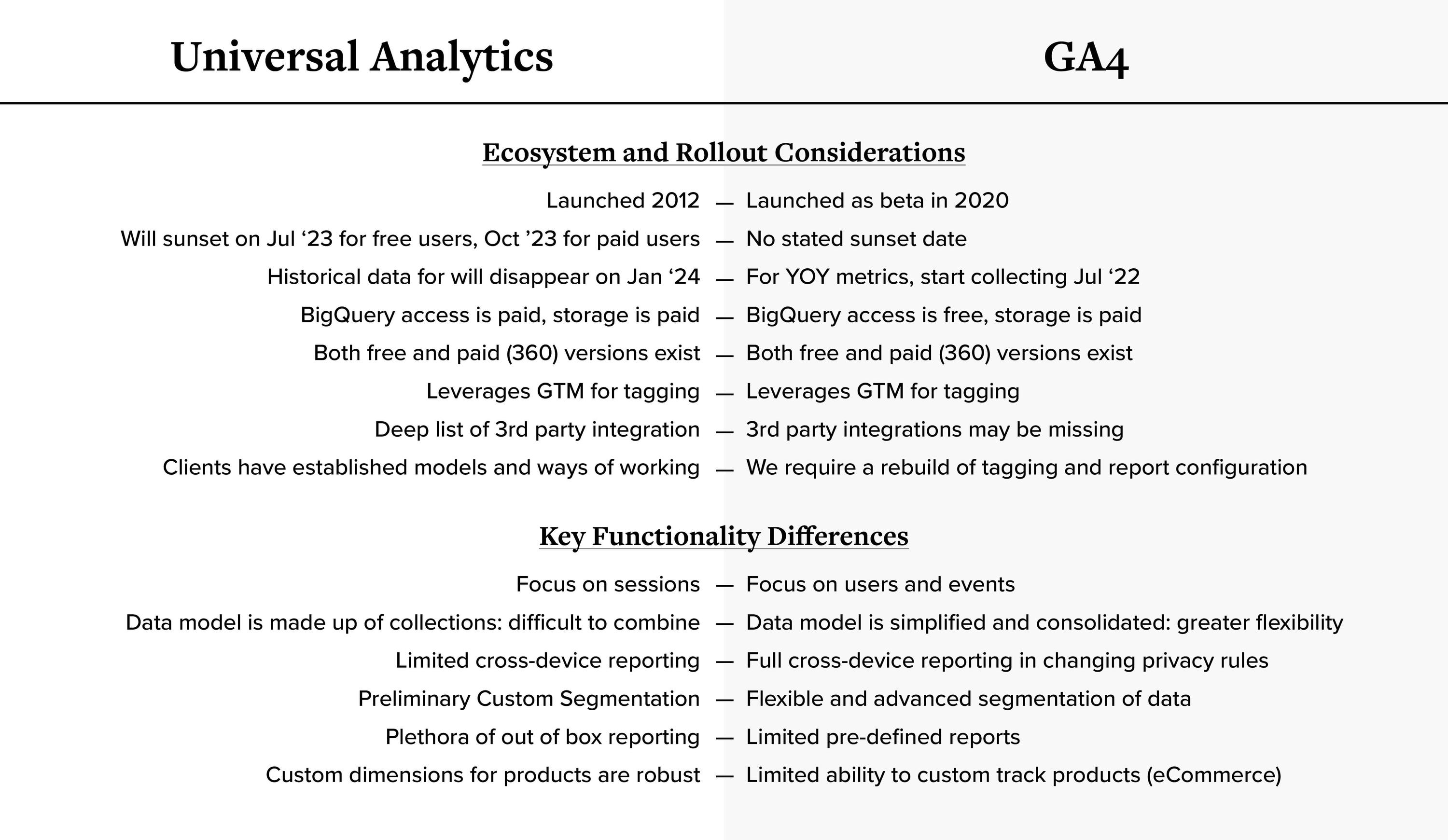 Ask Rightpoint to Help
The challenges associated with migrating to GA4 may seem daunting, but this is a pivotal opportunity for organizations to elevate their capabilities. Rightpoint is here to help navigate this transitional period. Our teams have extensive experience in strategic migration and the development of impactful business measurement strategies. We take a thoughtful approach to the unique challenges faced by your organization and industry, and we focus on expanding the art of the possible to position you to be a leader in your space. If you are considering a move from not just UA to GA4, but perhaps Adobe or another web data platform, we can assist in your evaluation and effort as well – many of the same questions apply and the opportunity remains the same. Reach out to our team to learn more about how we can help make the switch to GA4 as smooth and fruitful as possible! 
Learn more about how we can help.