Monday, September 19, 2022
Can Digital Solve the Medication Non-Adherence Problem? Apple Thinks So
By Trenholm Ninestein — VP, Digital Health
If you are reading this article, odds are you are taking medication for a chronic condition, such as pain, diabetes, or hypertension. Over 50% of US adults have at least one chronic condition, and over a quarter have multiple that they are managing. Unfortunately, medication adherence (or non-adherence as we will discuss) is extremely common in these patients, affecting nearly half who are prescribed treatment. This leads to over 125,000 preventable deaths each year and costs the industry an estimated $300 billion annually.
Can Digital Solve the Medication Non-Adherence Problem? Apple Thinks So
– VP, Digital Health — Trenholm Ninestein
In this article, we will explain what medication non-adherence is, explore some of the causes, the cost and impact it has on the industry, and how digital tools (including the latest from Apple) are trying to solve the issue.
"Drugs don't work in patients who don't take them." – C. Everett Koop, MD, US Surgeon General, 1985
What is Medication Non-Adherence?
Medication non-adherence is the intentional or unintentional act of not taking medications as prescribed by your physician. In one case, the patient is making a deliberate choice not to adhere, and in the other, it is driven largely by a lack of capacity or resources. It could mean not taking the medication at all, skipping dosages, or not taking it as prescribed. An example could be a sublingual that a patient just swallows instead of placing under their tongue for diffusion into the blood tissues.
Key Factors Driving Non-Adherence
Over the last few decades, numerous studies have examined the key factors leading to medication non-adherence. These include the following:
Forgetfulness. A large percentage of patients, around 42%, report that they simply forget to take their medications. They have all the intentions to take them, but after a few days of non-adherence, the habit never takes shape.
Cost. The average cost of prescription drugs for Americans is nearly $1,300, higher than anywhere in the world. While most of us have insurance to help pick up some percentage, many Americans are left to choose between medication and other financial priorities. This can lead to behavior such as not picking up or refilling a prescription or splitting pills to preserve and spread out their medication.
Fear. The potential for side effects is another reason most patients will not adhere to their medication. They are not willing to take the risk even if it is greatly outweighed by the therapeutic benefit of the medicine. Some fear is also derived from general mistrust by patients of their physicians and perception of pharmaceutical companies pushing them to prescribe their medication.
Literacy. One of the biggest challenges we face in the industry is health literacy. According to a National Assessment of Adult Literacy (NAAL) study, only 12% of US adults are proficient in health literacy, and over one-third would have difficulty with common health tasks, such as following directions on a prescription drug label. Things like the inability to pronounce a condition or therapy, referring to medications by shape or color, or not asking questions to a healthcare professional are markers of low health literacy. A deficit in health literacy has a direct impact on medication adherence.
There are just a few factors, and surprisingly, age does not contribute to non-adherence. This is a pervasive issue across all generations, young and old. As we are living older and with comorbidities, there is typically an increase in medication burden that can lead to non-adherence. These complex regimens of multiple prescriptions are another contributing factor making this a real challenge.

Digital solutions to the rescue?
After the New England Health Institute (NEHI) published a report in 2009 shining a light on the issue and raising awareness of the nearly $300 billion annual cost, many digital health solutions entered the market. Over the last decade, nearly 800 companies have listed "adherence" as a core issue to tackle and developed novel ways to solve the problem. Different categories of digital tools emerged, with no clear front runner separating itself from the pack. Examples of these include:
Reminder apps. These are typically free-to-use apps that allow patients to be alerted when it is time to take their medications. Some of the drawbacks of these lost-cost, point solutions include not being integrated into a health ecosystem, only covering some conditions or treatments, and selling consumer data to third-parties. While some use gamification to encourage and motivate, no notification can address some of the key barriers to adherence listed above.
Smart pill bottles. These are bottles with connected sensors in the caps that detect when it has been opened. In some cases, they are paired with a mobile app, or can be used standalone on WiFi. One of the downsides to these is cost, and patients with complex regimens may need more than one. Just because the bottle has been opened doesn't mean they have adhered.
Smart pill dispensers. These are larger units that dispense pills at programmed times and can be incorporated with apps, voice assistants and other digital tools. Their size and placement, typically on countertops in kitchens, provide great visual cues to promote adherence behavior. Some allow for easy refill of medications or sending alerts to loved ones when doses are missed. However, these are just as expensive as smart pill bottles and lack the ability in tracking absolute adherence.
None of these digital solutions have moved the needle on adherence and few have shown clinical results for patients. As point-solutions, they cannot address all the critical patient needs when it comes to fear, cost or literacy. It is clear that not one digital tool can tackle this issue alone.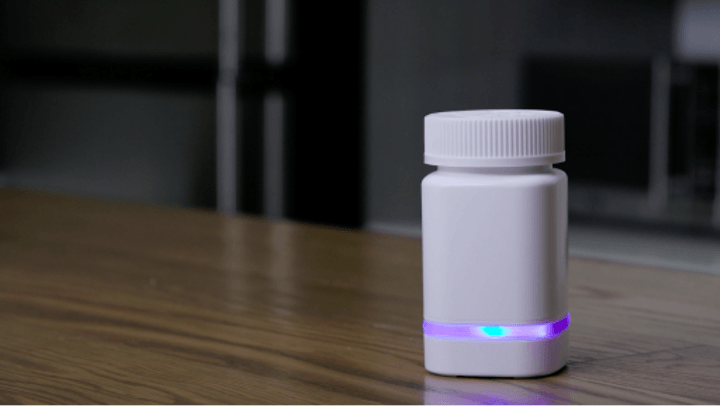 "It's a feature, not a product." – Steve Jobs reference in talks to acquire DropBox
Apple set to launch Medications Tracker
In 2009 when Dropbox, the provider of online, hosted file storage, pitched their idea to Steve Jobs at Apple, Jobs' famously made a comment that "it's a feature, not a product." He believed that cloud storage would be bundled, or included, with an existing product or solution. A few years later, Apple launched iCloud, their own integrated solution available across their ecosystem, providing an easy way to store, share, and manage files, photos, and other documents.
Similarly, medication tracking should be as ubiquitous as an alarm clock or basic calculator, built into the operating system as a feature - not as a point solution. It represents core functionality that should be made available to everyone, without having to install another application or use a separate product. 
Medication Tracking is a feature, not a solution
Apple released iOS 16 and watchOS 9, major updates to their software with functionality built in to help patients track their medications, vitamins, and supplements.
Once you have updated your devices to the latest operating system, you can try it out for yourself by following the steps below.
Health app. This is the central and secure place for all your health and fitness information, and where the new medications tracker will be accessed. Once the app is launched, the new medications category will be listed under the "Browse" tab. You can search or scroll to the location to get started. 
Add medication. Next, follow the on-screen prompts to add a medication. You can search for your medication by typing in its name or use the camera to scan the label of your pill bottle or packaging. The app will detect possible matches, including dosage amounts, making it feel like magic and removing barriers to getting started. It will certainly make entering Hydrochlorothiazide, one of the top prescribed medications for high blood pressure, much easier for patients.
Set reminders. Once the medication is entered, you will then set a frequency, every day or every week for example, and the time you would like to be reminded. You can even set the shape and color of the medication providing visual cues when it is time to take it.
Medication interactions. The final step is viewing known interaction risks that the medication has, not only with other medications, but with alcohol, tobacco, and marijuana. This key interaction helps to educate and inform patients and removing some of the fear elements that might exist as barriers to adherence.
Notifications. These are the prompts, or reminder, you will receive when it is time to take your medication. They will appear on both the lock screen of your phone, or on your Apple Watch. Simply tap on either "Skipped" or "Taken" to track, sending the interaction to the "Logged" section of the app.
Sharing. The Health app already allows for sharing of information with others, including your physician when linked with your medical records. You can also export your medications as a PDF, making it easy to fill out that intake form the next time you visit a new healthcare professional.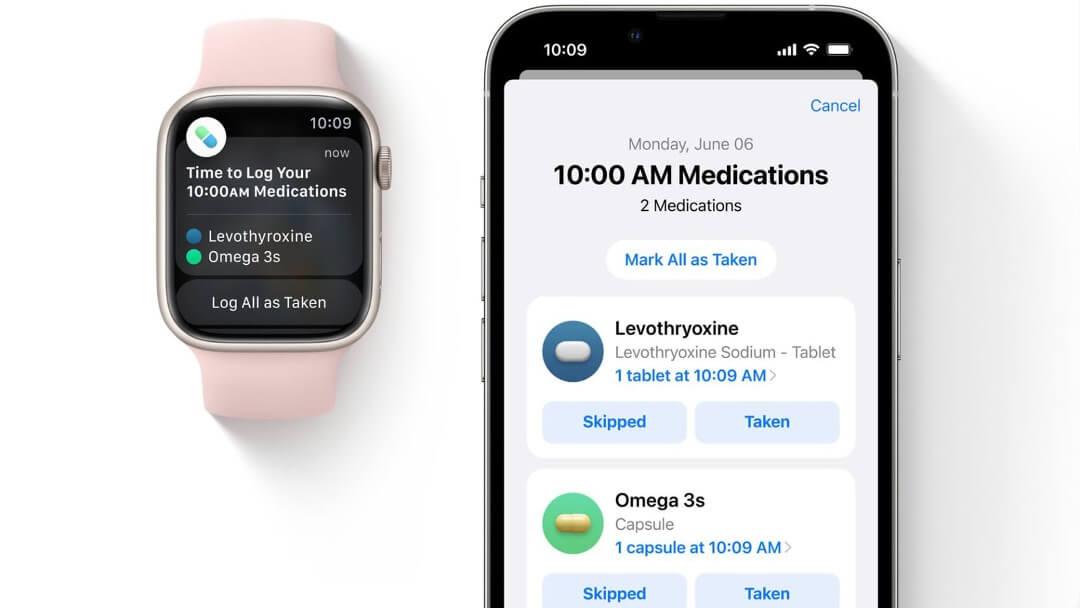 How can we fix adherence?
This marks another step in a long journey for Apple in their quest to improve health and tackle non-adherence. It is another entry that seemingly disrupts many apps that are available to patients. Apple will be able to withstand the "long game" that is required to make real progress and are willing to invest in their health vision to make tools easy and more accessible. The Health app is a solid foundation to iterate on with respect to many aspects of our care, including integrations to electronic health records (EHRs), access to passive data (like activity and sleep), and prompts for healthy behaviors; and is the perfect umbrella to include medication tracking.
While it is still early and Apple is just getting started, there are ways in which they can improve the medication tracking experience.
Two-way communication. The ability to allow patients to communicate directly with their physician or pharmacist when they are struggling, have questions, or simply miss taking their meds. This would help close the challenges of fear and literacy to increase success. An integration with a telehealth solution could prove meaningful and valuable for healthcare professionals giving them behavioral insights into barriers around non-adherence.
Fill in the gaps. The export and share functionality only list the medications I have an existing regimen around. Imagine the next time you go to your primary care doctor: she asks you how you are doing, and you can produce a journal of the days you took your medications, along with your activity, sleep, and other health factors you are tracking. This could provide her with insights in how the medications are interacting with your overall quality of life.
Streamline the experience. Adherence is just one step in a patient journey and this feature is nested into an app that is getting complex. Can Apple fully integrate to automatically have prescribed medications appear if a patient has linked their app to their EHR? Is it possible to provide security around data so that patients feel safe doing this in their ecosystem? 
The Path Forward
Adherence is a complex issue that requires all stakeholders, from pharmaceutical companies to physicians and pharmacists, and patients with their care teams, to address. It is not a point solution, but rather a step in the journey from presenting with symptoms to diagnosis to treatment, that needs to be fully integrated and built into the ecosystem. It is never too early in the drug development process to think about adherence, or too late in a care plan to address critical patient challenges.
At Rightpoint, we are passionate about the challenge of non-adherence and pride ourselves at working at the intersection of behavior science and innovation to improve lives. One example is our work with Sanofi, helping diabetes patients with the complicated process of pairing a medical device, a critical step on the path to successful adherence. If you are working on a treatment or therapy and starting to think about these issues, we would love to hear from you and share our learnings.