Tuesday, March 2, 2021
5 Examples of How Marketers Can Create Relevant Customer Lifecycle Messaging
Nowadays, eCommerce marketing activities include multiple digital channels such as email, text, social networks. Logging into different systems and trying to synchronize messages across all channels often becomes a real challenge for small marketing teams to manage. If not centralized, this variety can sometimes cause communication hiccups that no business would be proud of.
5 Examples of How Marketers Can Create Relevant Customer Lifecycle Messaging
One of the most effective solutions to avoid conflicting messages, and to reduce the workload marketing teams experience, is to start using a marketing automation platform that can offer smooth, integrated communication via multiple channels—allowing marketers to send customer lifecycle messages to the right people, at the right time, via the right channel. 
This switch empowers marketers to become more nimble, save time, and focus on tailoring communication content instead of wasting time changing messages on different platforms. Keep reading to learn about how your team can become a more nimble team and increase sales without increasing your workload.
Why expanding your set of channels and employing an omnichannel approach is worth your time.
Studies show that sending messages via customer-preferred opt-in channels can bring stunning results. Although email is the channel that brings the highest ROI, customer behavior and preferences have changed over the last year due to pandemic. At Omnisend, we provide yearly and quarterly reports to monitor and understand upcoming trends and customer behavior. Our findings are the following:
eCommerce businesses receive a 287% higher purchase rate when using three or more integrated channels in their workflows. (Omnisend, 2020)

Automated messages dominated 2020, marking YoY lifts in open and conversion rates. Overall, automated messages accounted for 29% of email orders while making up less than 2% of total email sends. (Omnisend, 2021)

Key lifecycle automation workflows (like welcome & cart abandonment) are major revenue drivers and will continue to be in 2021. (Omnisend, 2020 Q4)

In 2020, SMS was established as a must-have ecommerce marketing channel with 378% more messages sent than in 2019. Conversion rates increased over 100% from 2019. (Omnisend, 2021)

Web push notifications are starting to find themselves a place in the modern-day customer journey and ended the year with a 28% conversion rate.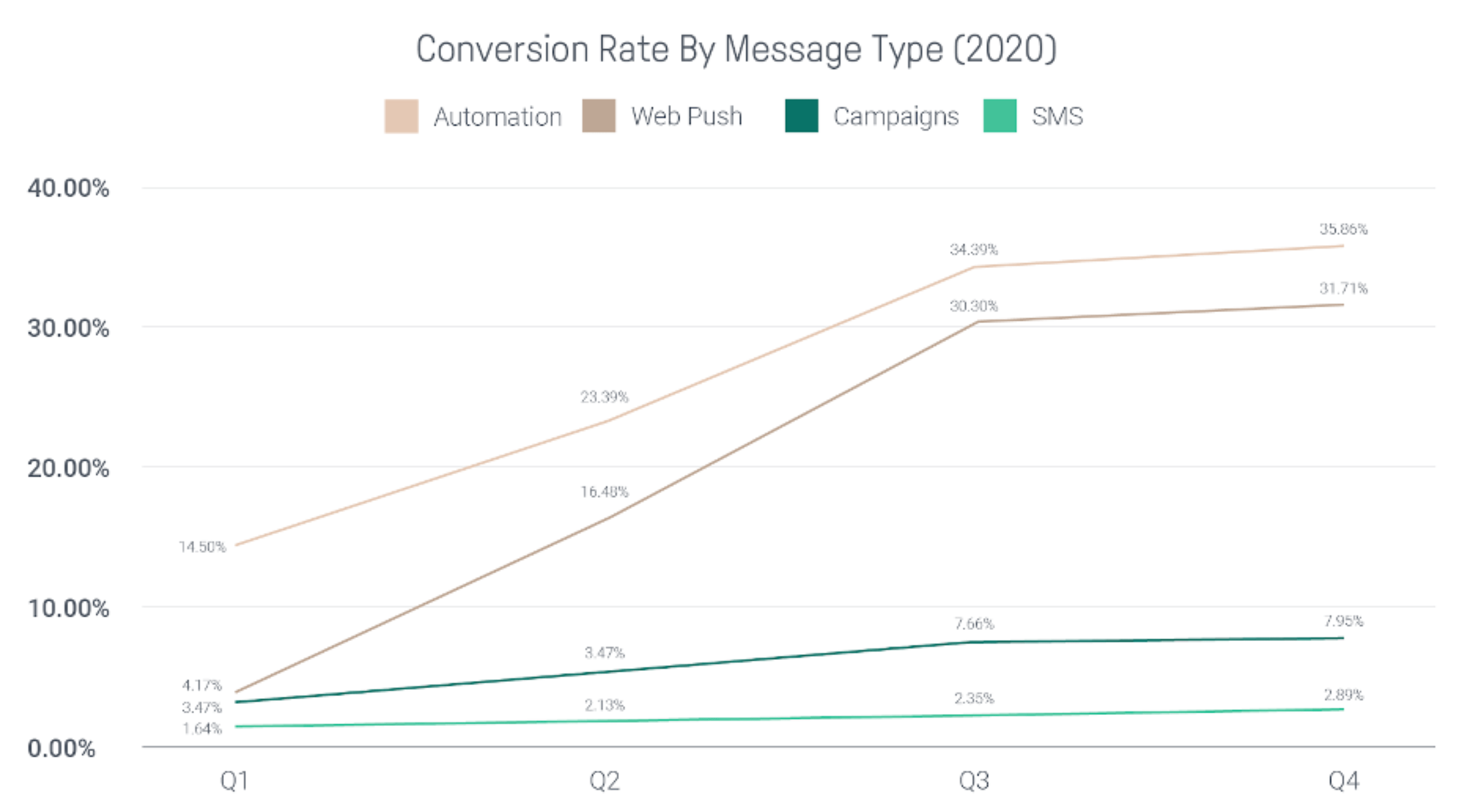 By building their marketing strategy on one channel only, businesses are leaving money on the table. Employing multiple communication channels, as well as setting up automated messages according to the customer lifecycle, can significantly increase sales.
5 use-cases of how you can best combine channels to send lifecycle messages.
Since we already demonstrated how combining and integrating channels into your automated workflows is worth your effort, let's dig deeper into the customer lifecycle stages and see what kind of messages can be the most effective at each stage.
1. Welcome series to new subscribers
Welcome messages, emails sent to new subscribers, are the most effective lifecycle marketing messages. With a conversion rate of 51.94%, a well-thought-out series of emails targeting these high-intent shoppers can bring your business an added fortune.
Showcasing particular value-adds in your messaging helps eCommerce businesses turn subscribers into customers. For example:
A customer-friendly return policy

An incentive for a first-time purchase

Fulfillment options, such as speed and cost of delivery, BOPIS, and curbside pick-up

Payment options such as buy now pay later

User-generated content as a form of social proof (product reviews, testimonials, socially-shared posts, etc.)

Photos or videos telling your brand story (Only tell your brand story if it creates value to your customers. Otherwise, focus on personalized, product-oriented information)
Typically, all or most of this information (or the information that the retailer finds necessary) fits into three to five welcome messages sent via emails and text messages. 
In the example below, you can see that immediately after the new subscriber signs up for the newsletter, they receive an email with a first purchase coupon code. In case they ignore or miss the email, and while the new subscriber is still considered high-intent, the platform sends a reminder via text message. The remainder of the email messages are sent in the upcoming days, introducing what's on sale and reminding the customer about the coupon code. This reminder can also be sent via SMS. 
Yearly Omnisend research has shown that including SMS into workflows improved conversion rates by 47.7%, so it's definitely something worth trying with your welcome series.
2. Cart abandonment to near-purchasers
The second-most vital automated workflow for all eCommerce merchants is a cart abandonment series. Recipients of these messages are of very high intent to buy but, for some reason, didn't complete their purchase. With these shoppers, you know precisely which products they liked, so the messaging can be straightforward. You only have to find the right channel to reach out to the audience. That's why we suggest combining a few different channels into the one cart recovery workflow. 
Let's say that the merchant is willing to recover all abandoned carts, but offer the discount only to the shopping carts of high value (more than $150). In the first step, immediately after the shopping cart has been abandoned, the web push notification sweetens the deal and invites them to finish the purchase. 
If the shopper ignores this message or doesn't get it because of the absence of consent, they receive an email. The text message then follows the email. This workflow can be extended with additional emails or texts—it mainly depends on the customer data you can operate with.
If you don't feel ready to build advanced cart abandonment workflows, start with something more simple, like the example below.
3. Browse abandonment to window shoppers
Not many messages can compete with the results generated by a cart abandonment workflow. However, imagine how many window shoppers never make it as far as placing items in their carts.
Automated browse and product abandonment messages can help businesses to re-engage with that large pool of shoppers and recapture lost conversions. According to Omnisend's 2021 report, businesses can expect a 17% conversion rate from such emails. This success rate grows even more if they add more channels to the workflow for winning-back customers. 
A browse abandonment workflow can be focused on different things:
Customer on-site behavior and previous shopping

Abandoned products: category, price, etc.
For example, you can send browse abandonment messages only to shoppers that abandoned high-priced items and highlight customer support options that perhaps for low-price items you wouldn't do. This workflow should be extended due to a longer decision-making window. Also, you may want to include web push notifications immediately after the abandonment and offer assistance.
4. Post-purchase series to new customers
Customer communication shouldn't end with a "thank you for buying" note. Returning customers make the vast majority of business profit. That's why it's vital to stay in contact with them even after their initial purchases.
A well-set-up post-purchase workflow can help merchants to bring back customers to their store and generate more repeat sales. In fact, this workflow is three times more effective than a simple email campaign and it helps to engage and provide customers with a better purchase experience.
Here are a few ideas on what to say and how to combine communication channels in your post-purchase channel:
"Thank you" message (email) + How to take care of your new items (email) + How do you like your new items? Please leave a review (SMS/push notification)

"Thank you" message (email) + Introduce your loyalty program (email) + Special offer for loyal customers (SMS + email) 

"Thank you" message (email) + user-generated content with a discount for a new purchase (email) + reminder of the discount (SMS)
These are only a few possible use cases, you can use many different messages according to your business needs.
5. Lapse-purchasers series
Lapsed-purchasers are customers that lost interest in your brand over time. This doesn't mean you lost them forever, but you may want to take some extra steps to win them back.
Typically, lapsed-purchase workflows consist of two-to-four messages that are sent at carefully timed intervals. These messages can offer special one-time discounts, showcase user-generated content, and highlight new products—whatever might influence a past customer to return.  
As lapsed-purchasers might not be so responsive to your emails, you should definitely try text messages and push notifications with this audience. These channels are less saturated and draw more attention to the messages themselves. In other words, this automated workflow, in particular, can include emails but messages via other channels should dominate.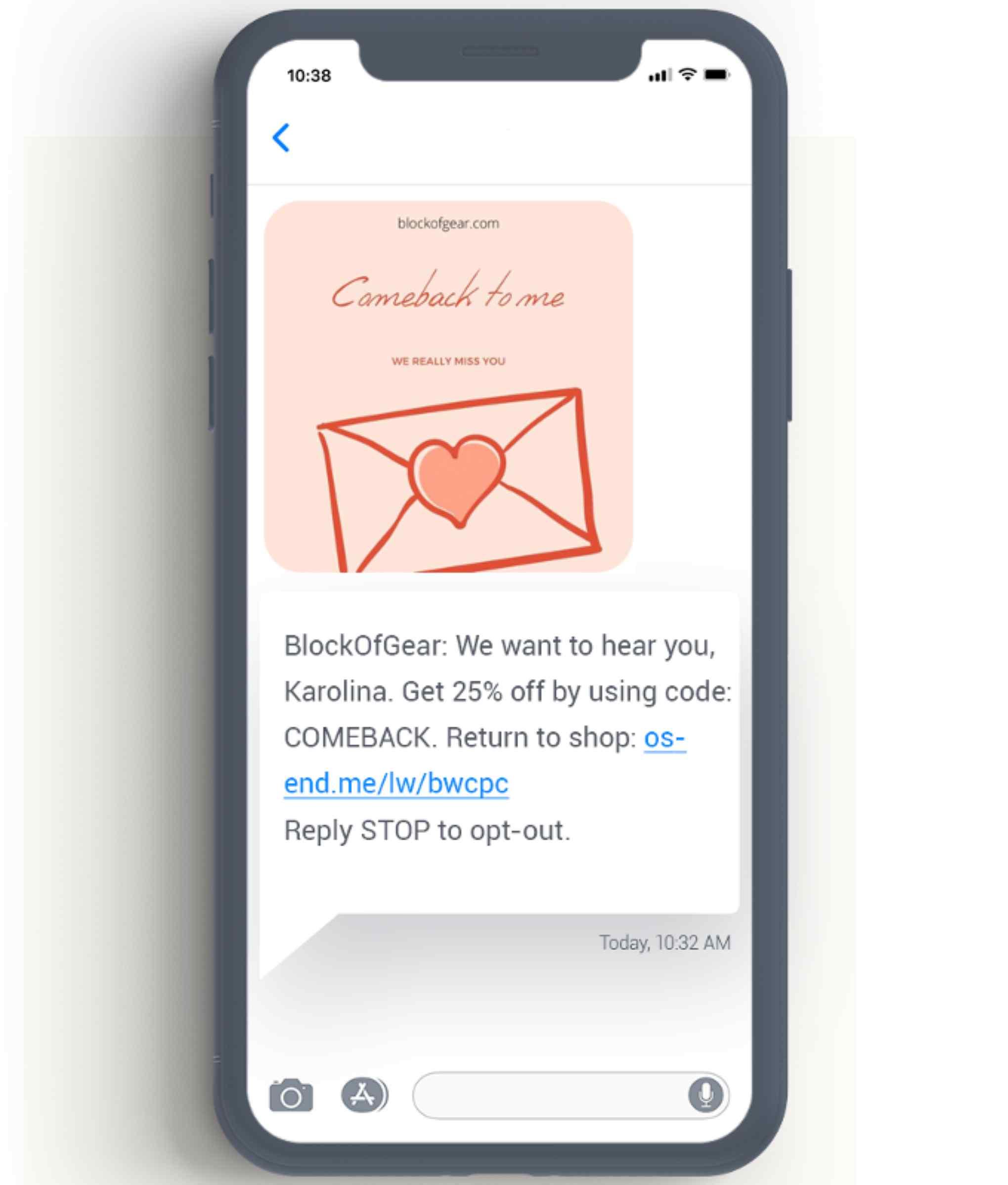 In 2020, lapsed-purchase messages generated a 21.7% conversion rate. If done well, these messages have a high potential to win-back wayward customers. 
Wrap Up
You can improve your communication and increase sales by integrating channels preferred by your customers and automating time-proofed lifecycle messages. As a side effect, your marketing team will save lots of time while increasing sales. To make this happen, you should look for a marketing platform that is capable of making this strategy come to fruition.