Thursday, June 23, 2022
Payments are the New Marketplaces
By Phillip Jackson
Payments are the new marketplaces. Okay, that's a pretty big statement. Why would I say such a thing? Well, there are few proof points I respectfully submit to any doubters out there. Much of the evidence I lean on stems from my experiences as a long-term American Express card holder.

Payments are the New Marketplaces
– Phillip Jackson

From Friction to Friction-Free
People tend to favor channels that have lower amounts of friction. True, applying for an American Express card was far from friction-free. I remember feeling nervous when I first applied, wondering if I'd qualified. I was also a bit nervous about paying my balance off at the end of the month, but I saw it as a way to change the way I managed my finances. 
More than a decade into being an American Express customer, I find it uncanny the way it is top of mind to me, and the extent to which I'm committed to maximizing the ecosystem that is part of the American Express rewards program.
I think about it all the time, especially when I get the company's emails informing me of the promotions for which I'm qualified (more on that in a bit). What's interesting is that after a fairly large amount of friction, I now have access to a friction-free way to realize the wide array of perks and benefits I get just by paying for being a member.
Over the years, American Express has become more than a credit card to me. It's a payment platform, a means to manage my cash flow, and it's a means to receive tangible benefits. The key, however, is the rewards. If I didn't get them, I wouldn't have an account with the company.
But the benefits are quite substantial, and more than justify whatever friction I face reconciling my expenses at the end of the month and submitting a huge payment. Over the winter I took my family skiing in Park City, UT, essentially compliments of American Express. Our plane tickets, hotel, rental car and more than a few meals were all paid for via American Express Rewards points.
From Payments to Full-on Marketplaces
Marketplaces are multi-sided by nature, places where the needs of multiple parties come together and are fulfilled by the connections they find in them. I see this happening with the American Express offers that are sent via email to me each month. More and more they're skewing high end luxury in one vector and nascent direct-to-consumer in the other. I see interesting mixes of Saks Fifth Avenue promotions with ones from right next to MALIN + GOETZ, Parachute and Aseop. 
These offers, which are better and more valuable than those offered to the broad consumer base, are very marketplace-centric in their exclusivity. Why would these brands offer bigger discounts to people who tend to skew higher income and higher net worth? The answer is simple: it's a great customer acquisition channel, and a small price to pay to acquire a high value consumer.
For the community member, the monthly or bimonthly emails become a point of discovery for new brands. I can try new brands at a discount without the friction or bother of redeeming a coupon or anything like that. Personally, I'm excited when I see them hit my inbox, and it further cements American Express as my favored payments platform.
All Payments are the New Marketplaces
American Express isn't the only marketplace; other payment platforms are following suit. Buy Now Pay Later (BNPL) platforms like Affirm, Klarna and AfterPay offer a similar connection to stores and brands willing to offer members unique discounts. 
Members still face the friction of applying for a line of credit and installing an app, but in return they get easy payment options and access to an ecosystem of merchants that accept that line of credit and are willing to sweeten the pot with sizable discounts.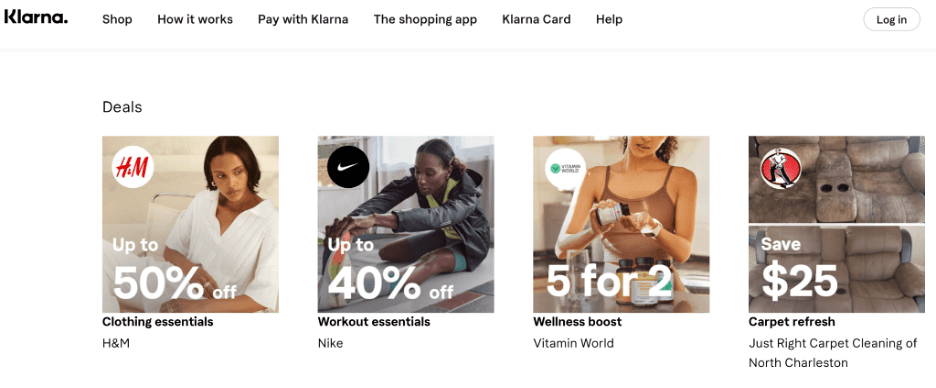 AfterPay has curated a network of Black-owned businesses for its shoppers who want to support this community. Shoppers can even donate $1.00 at the point of purchase, which AfterPay collects and uses to support Black founders. 
BNPL platforms themselves reflect the way credit usage is changing. Younger people aren't as keen or motivated to apply for a credit card and carry them around in their wallet. The platforms democratize the digital luxury experiences of the American Expresses of the world so that younger Millennials and Gen Z can enjoy them as well.
They're also getting into crypto by enabling shoppers to purchase items or payoff their balances using bitcoin. "Square and AfterPay have a shared purpose. We built our business to make the financial system more fair, accessible, and inclusive, and AfterPay has built a trusted brand aligned with those principles," said Jack Dorsey, CEO of Square, when his company acquired AfterPay. "Together, we can better connect our Cash App and Seller ecosystems to deliver even more compelling products and services for merchants and consumers, putting the power back in their hands."
This is a very different way of looking at a payments ecosystem, and it encourages a type of activity across many sectors, from entertainment consumption to equities and investment strategies. This is all the stuff that American Express gets me to do, only it's tailored for the younger generations.
The Threat to BNPL Platforms
While the BNPLs offer benefits geared towards younger consumers, American Express has a huge head start in the "payments as marketplace" space. They could own it if they wanted. For instance, I can go to my Rewards account and shop directly from there. I also see my available points while shopping on Amazon, and can opt to redeem them on any purchase I make. That's incredible power. 
Looking into the future, the be-all-end-all state for a BNPL platform offers discovery of new brands, the option to put a purchase on an installment plan at the point of purchase, and serves to reinforce my preference for a particular payments option based on the rewards that I get. 
American Express is getting closer to that nirvana with its Plan It feature, which allows card holders to split up large purchases into installments with a fixed fee. And while Klarna, Affirm and AfterPay race to build up its ecosystem of retailers, American Express already enjoys a sizable one.
It would be ironic if American Express ends up dominating the BNPL ecosystem, given that venture capitalists spent dearly to validate the model. American Express, and not these young startups, would be the prime beneficiary of their investments.
Of course, the BNPL platforms are already encroaching on American Express' territory -- travel -- and giving it a run for its money. Their goal is to redefine what an institution like AmEx should be in a modern age, and they're taking on corporate cards and corporate travel in the process.
Who will come out on top? At this point, it's anybody's guess, but it's super interesting to watch this market evolve.