Thursday, February 10, 2022
Crafting the Perfect Gift Guide
By Phillip Jackson
I realize that the holiday season ended a little over a month ago, and you've barely had enough time to catch your breath, but as they say, no rest for the weary. Valentine's Day is quickly approaching, and before you know it, Mother's Day and Father's Day will be upon us. 

Crafting the Perfect Gift Guide
– Phillip Jackson

All three of these holidays are about gift giving, either to a friend, colleague or loved one. And if we're honest, gift givers like to give themselves gifts as well. 
What's more, gift-giving occurs all year long. At any point during the year, your customers (and potential customers) will wonder what to get their 15-year-old nephews for their birthday, or their 25-year-old granddaughters for landing her first real job. In fact, offering a year-long birthday gift guide is an excellent strategy for attracting visitors to your site.
Now is a good time to think about crafting a gift guide strategy that will last help your brand during specific holidays, as well as one that is evergreen.
How to Think About Gift Guides
Gift guides kind of fly in the face of your tried-and-true merchandising tactics. Most ecommerce sites prioritize the right mix of best-selling and higher-margin items, along with products that tend to prompt repeat purchases on their sites and it's a strategy that serves them well. This is the de facto merchandising strategy. The challenge with gift giving is that buyers are purchasing for someone else, and that means gift recommendations require a whole new set of parameters.
Start With the Basics
The job of a gift guide is to move a site visitor through a decisioning tree, and to make that experience as enjoyable as possible. Every gift giver has a price point in mind, which makes cost a very good place to start. Offering tabs of, say, gifts under $25 will make it easier for shoppers to drill down to items in their price range, which increases the chance that they'll stay on your site and convert. The other major dimension is the gift recipient (her, him, the kids, etc.).
Offer Values or Persona-Based Shopping
Shopping by values and personas is easier to implement and provides more value if your brand offers a wide breadth of the product assortment. For smaller companies with a niche assortment, these ideas may not be as applicable as the basics (e.g. sorting by gender, age or relation to gift giver).
Verishop, a premium lifestyle destination for everyday luxury in fashion, beauty, home and more, did a great job with its Holiday Gift Guide, and it's well worth exploring for ideas and insights. One of the tactics that Verishop deployed is shopping by personas – e.g. wellness junkies, entertainers, responsible friend, and so on.
What I like about this idea is that it invites the visitor to think about the gift recipient's personality and buy accordingly. Gifts are thoughtfully curated by persona; for instance, visitors can find a variety of sustainably produced items in the 'Responsible Friend' category.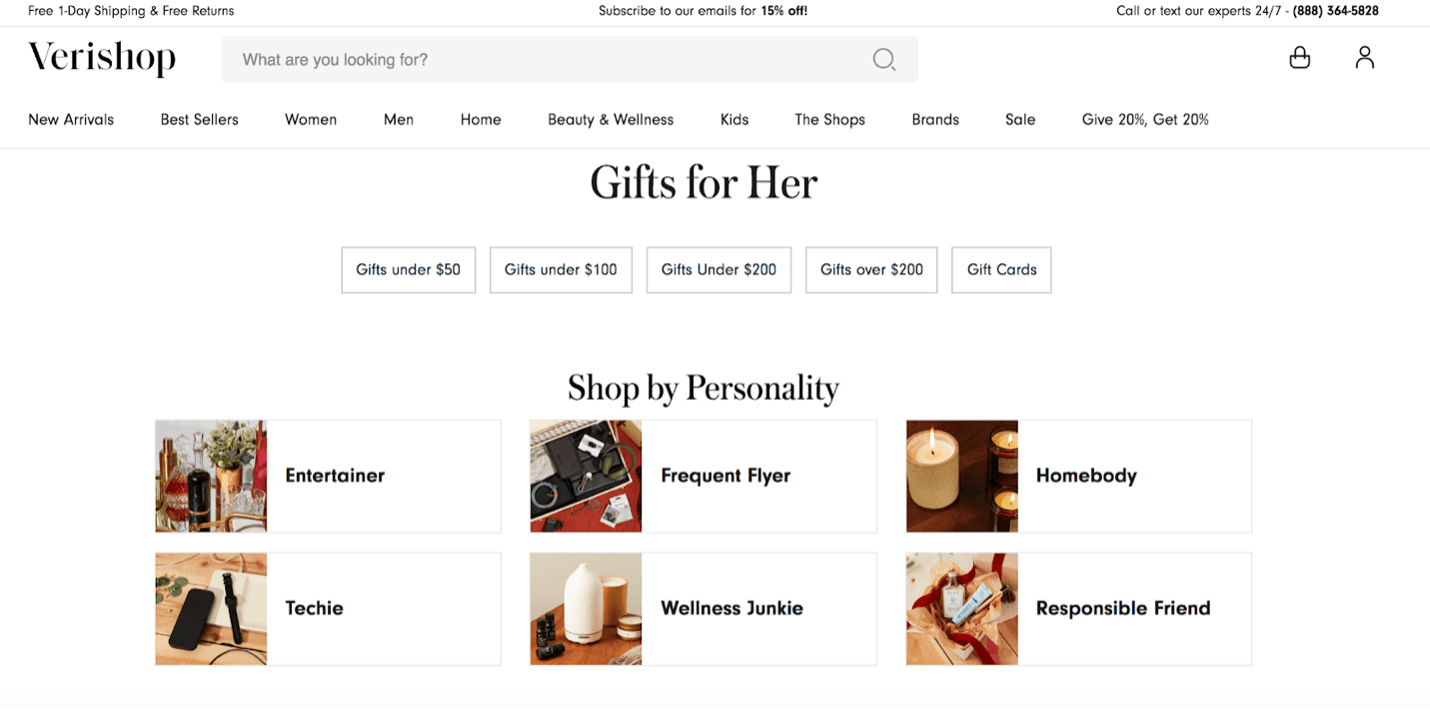 Allow Visitors to Shop by Values
These days, everyone has someone on their list who is driven by environmentalism, human rights, fair wages or other worthy causes. Allowing your visitors to select gifts based on the recipient's values is a great way to boost conversions. 
Once again, Verishop did a great job of this by allowing visitors to "shop by cause," which took them to a collection of products that met those criteria. 
This strategy has many benefits beyond helping your visitors select gifts that match their recipients' values. Selecting from a Cruelty Free category ensures that an animal rights activist won't return a gift because it's made from animal products or was tested on lab animals. The recipient may even be impressed that the gift has a cruelty free label, and will choose to patronize your brand in the future.
At this point we see the many dimensions of the decisioning tree: price, her, cruelty free. 
Upsells and Cross Sells
If, like Verishop, your products span a lot of buyers and categories, your gift guide will likely have a lot of depth, meaning visitors will need to make three or four decisions to reach the right set of products to choose a gift. What if they don't see something that moves them? Because that may happen, it's a good idea to present your visitors with options that are just outside of their criteria, say, a few gifts that are $35 or $50, or gifts in an adjacent category (e.g. a handbag option in the wallet section of your gift guide). 
The other way to upsell orders is to offer a tempting deal to the gift giver (e.g. purchase this gift and get one for yourself at 20% off). Self-gifting is a growing phenomenon which can help you increase the AOV of your orders during a gift-giving holiday, and all year round.  
Put Your Copy to Work
Obviously, the photo is all important when people shop for gifts, but product descriptions go a long way as well. Valentine's Day, Mother's Day and Father's Day celebrate people who are intimately connected to your visitors, and it's a good idea to rewrite the copy to reflect the holiday.
Verishop did a terrific job with its copy this past holiday season. Sundance catalog also takes the time to tell stories for every single one of its products, from who made it, what inspired them, and the joy it will bring.
Put a Collection Together
Nothing makes a gift buyer happier than the opportunity to customize a gift for his or her recipient. This past holiday I visited Otherland.com to buy a candle for my mom. Otherland is an interesting digitally-native brand that has nailed the gift-giving experience in important ways.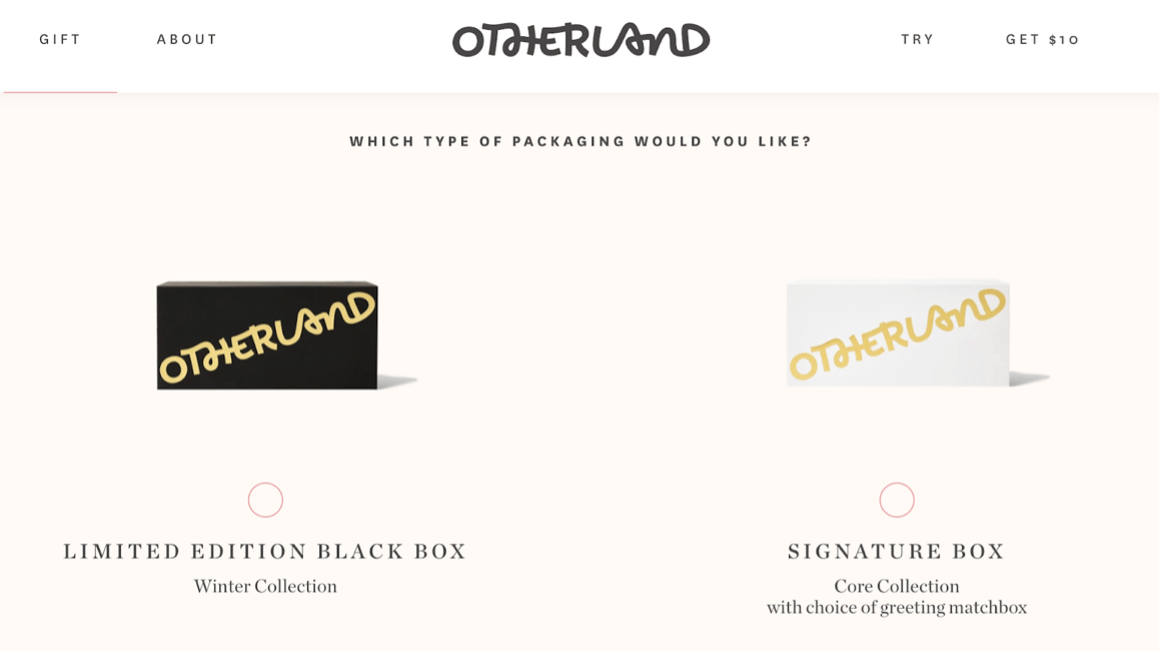 The buying experience begins with selecting the package in which the gift is sent. Visitors are then prompted to choose the number of candles, candle scents, a message to appear on a matchbox, and of course, a custom message.
It is an elegant process that just screams, "great gift." More importantly, we've talked about before on this blog, gifting holidays are a great way to acquire up to three customers for the cost of one, as long as you provide an amazing end-to-end experience. 
Should you take the time and effort to create a gift guide in time for Valentine's Day? I think you're missing an opportunity if you don't. Gift guides are an important customer acquisition tool and can deliver dividends beyond the initial sale.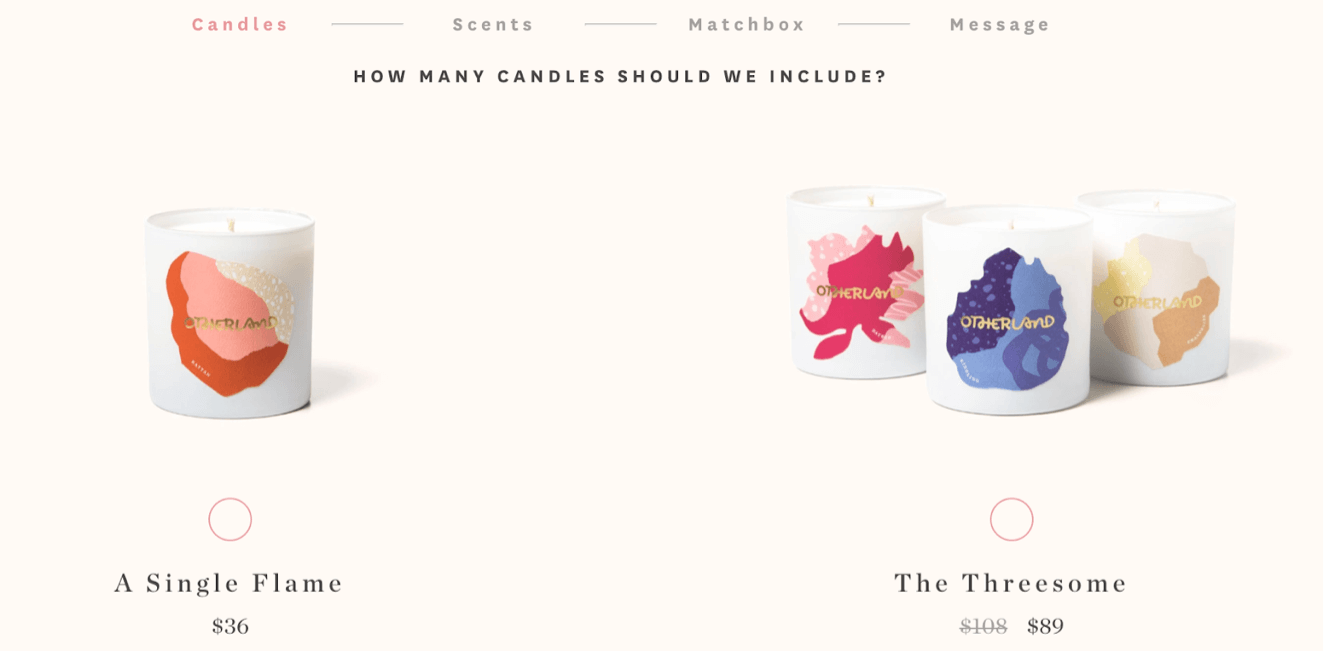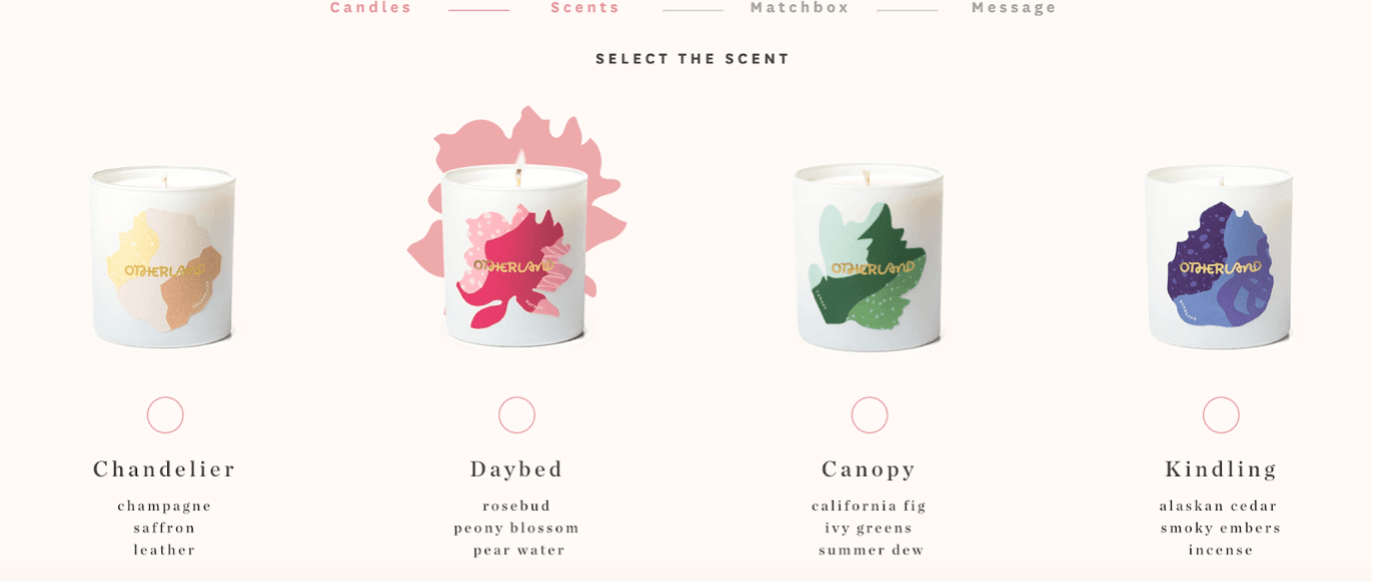 Getting Traffic to Your Guide
It's one thing to create a great gift guide, and another to get traffic to it. Once your holiday specific and evergreen gift guides have been optimized for a great user experience, a strategy should be developed that strategically utilizes marketing channels and on-site real estate to promote the gift guide at varying levels depending on the time of the year.
Don't Forget: Think Evergreen
Although gift guides can be considered seasonal, people buy gifts year-round, so maintaining an evergreen gift guide page all year round is something to consider. If kept live, optimized, and updated regularly based on a marketing or seasonal calendar, the page can gain SEO value over time. This can help drive more organic traffic when it really matters (e.g., Cyber Week). Many retailers publish temporary gift guides and then take them down after a holiday ends.