Wednesday, November 11, 2020
Charities' Chance to Embrace Digital
By Camille Sharrow-Blaum — Strategy Lead
Covid-19 has in many ways, accelerated the need for organizations to embrace digital strategies. In a survey conducted by the Charities Aid Foundation of America, 68% of respondents reported a decline in contributions due to the inability to reach and make connections with donors in the absence of face to face operations.

Charities' Chance to Embrace Digital
– Strategy Lead — Camille Sharrow-Blaum

The acceleration towards digital
Moving to a 'digital first' playbook will require a mindset change and investments to make the adjustment. One common mistake we see is charities not finding effective ways to ensure that donors are continually engaged and actively participating online, to fill the void that lack of on-site events has left.
Covid-19 has impacted all types of giving
According to a survey conducted by the Charities Aid Foundation of America in April 2020:
68% reported a decline in contributions, due to donors giving less and the inability to reach donors.

41% expected contributions to decline more than 21%.

56% reported an issue with client relations and the inability to service donors.
Digital experiences can create a new class of long-term donors
The potential value of digital is significant if charities can get it right. For one charity we worked with, 60% of donors did not return after the first year, but of those that did return, 4 in 5 would go-on to become long standing contributors. And by the way, the typical amount fundraised for a third-year donor was 40% over the average.
The lesson? There are substantial rewards for charities that invest in creating engaging digital experiences to foster long-term donors and volunteers. 
In our experience, there are three particularly powerful areas that charities can begin to focus on: 
Create a digital presence that builds a sense of mission and community

Double down on efforts to reach first-time donors

Invest in self-service tools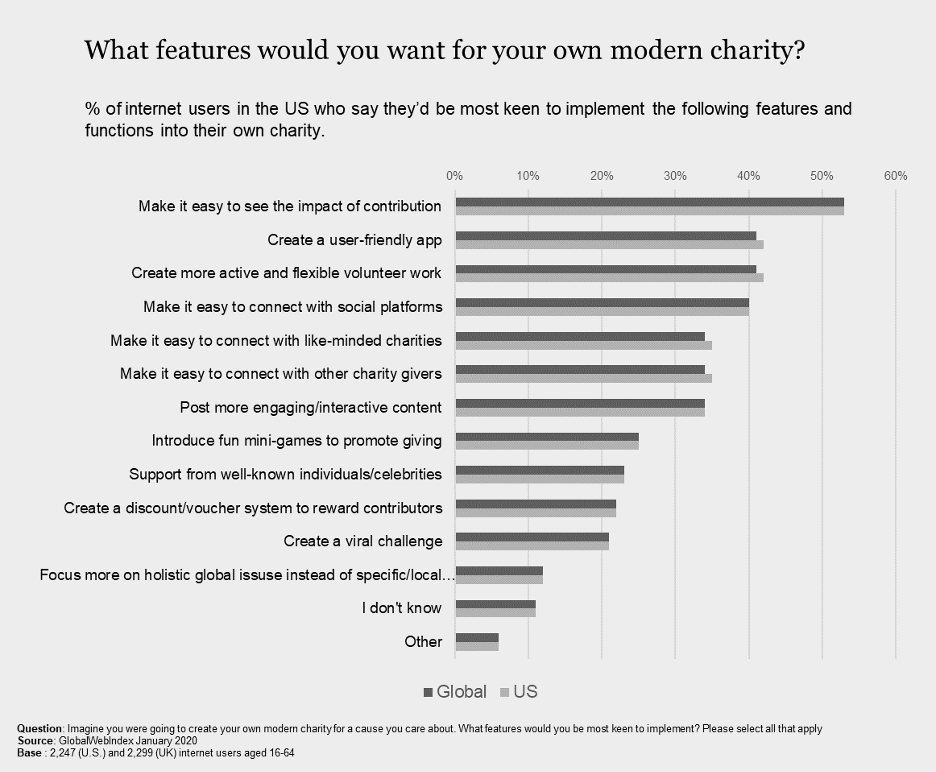 1. Create a digital presence that builds a sense of mission and community
One of the strongest reasons for donor support is a strong belief in the charity's cause. While charities know that storytelling can create a powerful emotional connection, many have not learned how to tell their story digitally.
Personal stories of donors, social media communities, and multimedia content with key connecting messages can help to create these connections virtually. 
Charities are also starting to use newer techniques to create connections 'in the moment', such as using gamification to add excitement after team donations and personalized text-to-donate reminders at targeted times.
Digital ways to increase emotional connection
Use transparency as leverage for building trust: Provide insights into where donations are making an impact, reduce the number of donations that go to a general fund, and highlight specific stories of people who have benefited from support.

Use personal stories of donors: Promote personal stories and anecdotes of donors and volunteers and provide social proof of donors who have achieved significant goals.

Focus on key interactions to increase engagement: Take advantage of moments such as on confirmation pages, donation receipts, and coverage of live (virtual) events, and tailor messaging to drive empathy (e.g. "we celebrate your uniqueness").
2. Double down on efforts to reach first-time donors
Understanding the journey that new donors follow is the key to success in the world of digital fundraising. A user-friendly digital experience is the second-most desired feature of a modern charity, behind only making it easy to see the impact of a contribution.
This speaks to the challenges first-time users have in their journey from understanding the mission of a charity through donating. Charities often need to simplify their mobile experiences and reduce the number of steps for donors to act. 
Digital also creates opportunities for charities to reach new geographies and other types of donors either organically or through partnerships. During the Australian wildfires earlier this year, video game developer Blizzard raised money by creating a set of firefighter skins for the popular game Overwatch (a similar skin raised over $12.7m for breast cancer research in 2018).
Focus on the first-time donor journey
Personalize experiences to reach new audiences: Understand different types of donors and provide varied experiences based on their needs, connect to new donors through different digital media channels (e.g. Facebook Live), and articulate donor progression to encourage ongoing participation.

Reduce barriers to making donations: Make it easy for donors to set up their payment profiles, especially to eliminate the need to bring out a credit card each time. Ensure that the donation experience is mobile friendly (e.g. suggested donations and reoccurring gift options).

Make it easy for donors to stay in touch: Make it easier to link accounts to social media, encourage donors to share milestones with their personal networks, and recognize donors for participation.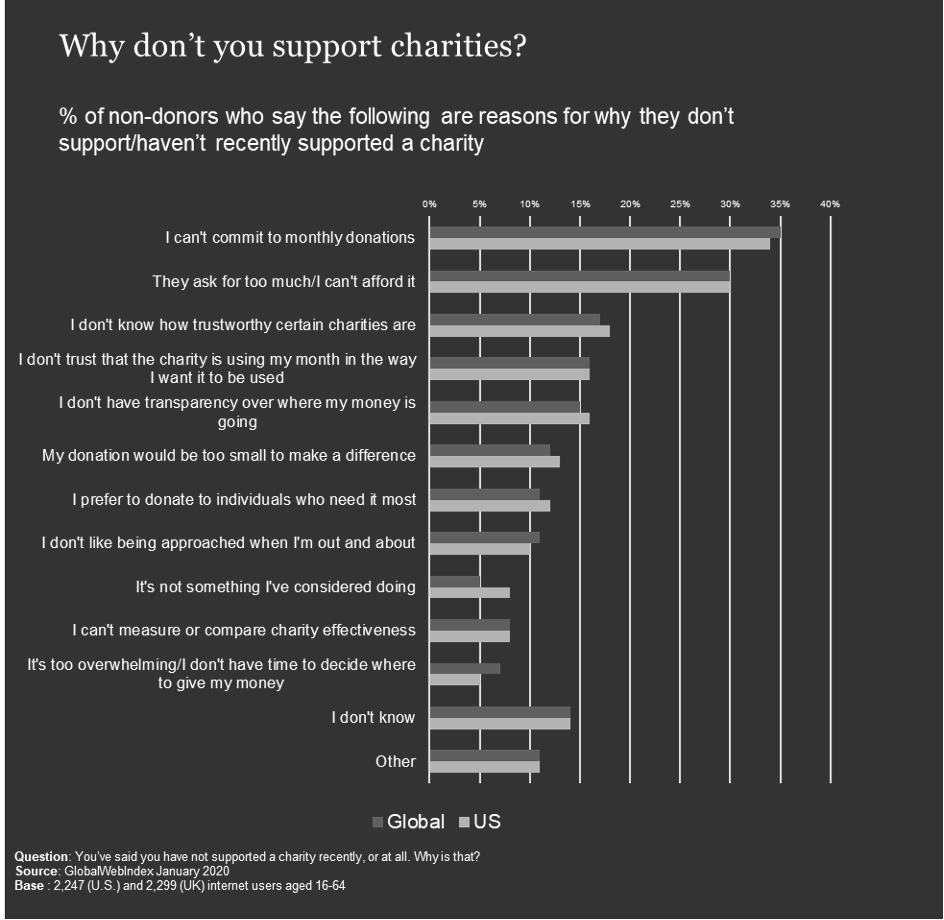 3. Invest in self-service tools
The old paradigm with data scientists analyzing data and producing streamlined reports is giving way to a new model where users of all technical abilities have the self-service tools to generate their own insights.
In our experience, the investment is worth it: in-platform self-service tools provide long-standing donors with a more engaging user experience, as well as the opportunity to create and foster rich community experiences. For example, community leaders could use self-service tools to track their team's progress, manager their leaderboards, and increase competition within their teams. 
Using self-service to create new experiences
Give users more transparency over data and insights: Leverage data to help donors track their progress and to understand the impact that donors and communities are having. Provide them with the tools to visualize data and create dashboards that can be shared with their own networks. 

Create a new class of 'superusers': Advanced donors can help take the charge on creating communities and promoting ongoing support for the charity. Empower them to make decisions to promote donations.
The chance to act is now – Pelotonia's story
Rather than approaching Covid-19 as a challenge that needs to be overcome, charities have the opportunity to accelerate their progress on shifting to digital. Those that can do it right will be able to distinguish themselves in a sea of competing organizations.
For example, after 11 years of phenomenal fundraising success, Pelotonia found themselves in the difficult position where it was impossible to hold their in-person cornerstone event – an annual fundraising bike ride. When Rightpoint got the urgent call, they worked with Pelotonia to take an entirely reimagined approach to fundraising. The cross-functional team of researchers, product and project management, designers, business leaders, digital and social leaders, and engineers needed to reimagine a real-world event as an innovative digital experience.
In the end, Pelotonia created a completely new platform that took the mission and creative concept of Pelotonia's annual bike ride and augmented it with a new digital experience and fundraising initiative. The new platform, My Pelotonia, allowed participants to create their own unique goals, which could include everything from biking, running, walking, volunteering, writing a book, to getting outside with their kids.
As Joe Apgar, Chief Operating Officer of Pelotonia said, "we needed a partner who could open up a world of possibilities for us. We felt really comfortable knowing that Rightpoint could innovate and help us approach problems from different perspectives. They spent all day, every day for two weeks to deliver a really innovative approach that our community has completely taken hold of and in a lot of ways will transform the organization for the future."